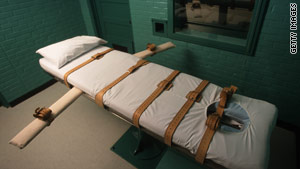 Death sentences have dropped 63 percent since 2000, according to the Death Penalty Information Center.
STORY HIGHLIGHTS
Report: Fewer death sentences were handed down in 2009 than any year since 1976

Eleven states are now considering abolishing executions

Nine men who had been sentenced to death were exonerated, freed this year

Washington (CNN) -- Use of capital punishment by states continues its steady decline, with fewer death sentences handed down in 2009 than any year since the death penalty was reinstated by the Supreme Court in 1976.
Year-end figures released Friday by the Death Penalty Information Center (DPIC) show 11 states are now considering abolishing executions, with many legislators citing high costs associated with incarcerating and handling often decades-long appeals by death row inmates.
"The annual number of death sentences in the U.S. has dropped for seven straight years," said Richard Dieter, the report's author and DPIC's executive director. "In the last two years, three states have abolished capital punishment and a growing number of states are asking whether it's worth keeping. This entire decade has been marked by a declining use of the death penalty."
DPIC is a nonpolitical group that provides facts and analysis, while opposing capital punishment as impractical and ineffective.
There were 106 death sentences issued in 2009, compared with a high of 328 in 1994. Death sentences have dropped 63 percent since 2000, when there were 235 issued.
Fifty-two inmates were executed this year in 11 states. The last was Matthew Wrinkles on December 11 in Indiana. He was convicted of murdering his wife and two family members 15 years ago.
Late Wednesday, Georgia issued a stay of execution for Carlton Gary. Known as the "Columbus Strangler," he was convicted of murdering three women with their own stockings and was suspected of four other similar killings. He has been given more time to file further appeals.
As in previous years, Texas in 2009 led the states in executions, with 24 -- four times as many as the next-highest, Alabama. Among high-profile cases:
-- John Allen Muhammad, convicted as the so-called "Beltway Sniper," responsible for at least 10 killings in the sniper-style killings around the Washington, D.C. area and three other states in 2002. He was executed in Virginia in November.
-- Kenneth Biros, who became the first person executed in the U.S. using a single-drug lethal injection. A three-drug cocktail has been used nationwide for years by corrections officials, but no complications were reported with the new method. He was executed in Ohio on December 8.
Executions had been delayed in Ohio this fall, after the botched execution attempt of Romell Broom, which raised serious questions about the state's lethal injection procedures. Those procedures were changed but Broom remains on death row. He is appealing his sentence.
Executions are on hold in California, Maryland, Kentucky and the federal system, pending challenges to lethal injection procedures. Earlier in the year, Nebraska became the last death penalty state to formally switch over to lethal injection as the main form of capital punishment.
The legislature had abandoned electrocution, which had been the sole method, but final protocols have yet to be approved for future executions.
Nine men who had been sentenced to death were exonerated and freed in 2009, most after new DNA or other forensic testing cleared them, or raised doubts their culpability. That is the second highest total since the death penalty was reinstated 33 years ago.
In Georgia, supporters of Troy Davis have urged retesting of forensic evidence to prove his innocence in the 1989 murder of a Savannah police officer. The Supreme Court in August granted a stay and ordered a federal court to re-examine his claims. The high court said the risk of putting a potentially innocent man to death "provides adequate justification" for another evidentiary hearing.
New Mexico in March became the 15th state to abolish capital punishment, although two inmates still remain on death row there.
New Hampshire's House of Representatives voted to abolish lethal injection, which would currently affect only one inmate on the state's death row. The measure is pending in the state Senate, but the governor has vowed to veto any bill. An execution has not been conducted there in 70 years, when hanging was the preferred method.
Thirty-five states still have the death penalty.