Suspect pleads not guilty to killing police officer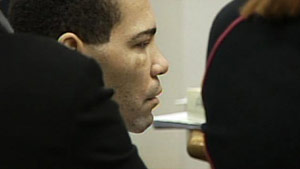 Christopher Monfort is accused of fatally shooting a Seattle police officer on Halloween night.
STORY HIGHLIGHTS
Christopher Monfort, 41, pleads not guilty to five criminal counts, including aggravated murder
Monfort is accused of fatally shooting a police officer and injuring a student officer
Monfort was left paralyzed by police who shot him, his lawyer said
(CNN) -- A Washington state man pleaded not guilty Monday to a charge that he killed a Seattle, Washington, police officer who was shot as he sat in his patrol car.
Christopher Monfort, 41, is being held in the death of Officer Timothy Brenton, who was shot Halloween night. Brenton, a 39-year-old field training officer, was reviewing details of a traffic stop with student officer Brit Sweeney when several shots were fired into the squad car, according to police. Sweeney was injured in the attack.
The shooting was the first intentional homicide of a city police officer since 1994, Seattle Mayor Greg Nickels said.
Monfort is charged with five counts, including aggravated murder and attempted murder. King County Prosecutor Daniel Satterberg also accused Monfort of arson and attempted murder in the October 22 bombing of police squad cars.
Monfort pleaded not guilty to all charges during his arraignment Monday. His lawyer, Julie Lawry, said she had no comment on the case.
Montfort was captured by police on November 6 near his apartment.
While detectives walked near the residence, they came across Monfort, and after a brief questioning, Monfort pulled out a gun and aimed it at one of the officers, police said. Monfort pulled the trigger, and when the gun didn't go off, he ran, police said.
When Monfort turned around toward the police with the weapon again, officers fired and hit him.
The shooting left Monfort paralyzed, his lawyer said.
Investigators had said they discovered improvised explosive devices and two weapons, including a military assault rifle, inside Monfort's home.