Texas board fires guard for failing to search armed inmate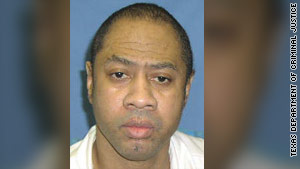 Arcade Comeaux Jr. escaped with two guards' guns while he was being transferred between prisons, authorities say.
STORY HIGHLIGHTS
Officer faces allegations of reckless endangerment, failure to follow policy
Arcade Comeaux had been in wheelchair when he pulled gun on guards transferring him
Comeaux was serving three life sentences for sex crime, aggravated assault
(CNN) -- A Texas disciplinary board has recommended dismissal for a state prison guard accused of failing to search a supposedly handicapped inmate who escaped in November, a spokesman said Thursday.
Corrections Officer Michael Price, a six-year veteran of the department, faced allegations of reckless endangerment and failing to follow policy in the November 30 escape of Arcade Comeaux Jr.
Comeaux, who had been in a wheelchair, pulled a gun on guards who were transferring him to another prison and escaped on foot after taking their weapons away, authorities said.
Jason Clark, a spokesman for the Texas Department of Criminal Justice, said the disciplinary commission recommended Price be dismissed for failing to search Comeaux before he was put in the van for transfer.
Price has been relieved of duty, but can ask for an independent mediator to review his case, Clark said.
Clark said more disciplinary hearings are in the works in the wake of the escape.
Comeaux was recaptured Monday in Houston after entering the lobby of a business, apparently in search of warmth and shelter, police there said.
He had been serving three life sentences for aggravated sexual assault and aggravated assault with a deadly weapon before his escape.
CNN's Maggie Mazzetti contributed to this report.