Fence to be erected at Ohio home where bodies were found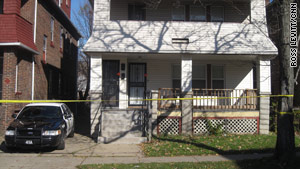 A fence will be put up around the Cleveland, Ohio, home where 11 bodies were found.
STORY HIGHLIGHTS
Judge grants motion to preserve crime scene, denies gag order and change of venue
Remains of 11 women were found in or near the house
Anthony Sowell, who lived at the house, charged with murder, rape, kidnapping
(CNN) -- A fence will be put up around a Cleveland, Ohio, home where the remains of 11 women were found, a judge ruled Wednesday.
The man who lived in that home, Anthony Sowell, 50, faces 85 counts including murder, rape and kidnapping charges following the discovery of the remains at his home. During a pretrial hearing Wednesday, Cuyahoga County Common Pleas Judge Timothy McGinty granted a defense motion asking for preservation of the crime scene.
That motion includes a fence around the residence, according to Ryan Miday, spokesman for Cuyahoga County prosecutors.
In addition, McGinty denied a request to impose a gag order in the case, telling the attorneys involved he expects them to follow rules of professional conduct, according to a summary of the hearing posted on the court's Web site. He also denied a request for a change of venue.
Sowell, a registered sex offender who served 15 years in prison before being released in 2005, waived his right to a speedy trial, according to the online summary. His next court appearance is scheduled for December 21.
Sowell pleaded not guilty by reason of insanity to the charges last week. Prosecutors are seeking the death penalty.
In addition to the charges related to the deaths of the 11 women whose remains were found in October and November, Sowell is also charged with assaulting three other women and raping two of them, authorities said.
Most of the women whose remains were found were strangled by ligature -- which could include a string, cord or wire -- and at least one was strangled by hand, officials said. Seven still had ligatures wrapped around their necks. A skull is all that remains of one victim. It was found wrapped in a paper bag and stuffed into a bucket in the home's basement.
CNN's Chuck Johnston and Ashley Hayes contributed to this report.