Woman tried to end rival's pregnancy, prosecutors say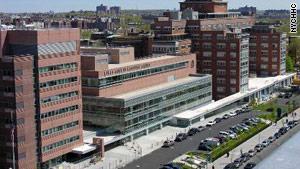 The victim was treated at Brooklyn's Kings County Hospital, New York City media reported.
STORY HIGHLIGHTS
Brooklyn, New York, woman tried to cause rival to miscarry, prosecutors say
Woman allegedly forged prescription for labor-inducing drug
Victim of ruse gave birth to boy, who survived
Someone later tried to poison baby's milk in hospital, prosecutors say
New York (CNN) -- Prosecutors in Brooklyn have charged a 38-year-old woman with tricking a pregnant woman into taking an abortion-inducing drug because the suspect thought her husband had fathered the child with the other woman.
And after the baby was born two months premature, but survived, someone tried unsuccessfully to slip a toxic substance through hospital security to the infant in the guise of milk for the baby, according to prosecutors.
The suspect, Kisha Jones, allegedly went to great lengths to end the pregnancy of 25-year-old Monique Hunter, according to a complaint filed by the Brooklyn district attorney's office in an ongoing investigation that began over a month ago.
Jones is in jail facing multiple charges, including attempted abortion and assault, according to authorities.
The baby is in a hospital's intensive care unit, according to the criminal complaint. The complaint did not elaborate on Hunter's condition but described her as providing information to investigators.
The complaint alleges that Jones in October used a doctor's prescription pad to forge a prescription for Hunter for a drug that can induce labor, telling the pharmacist that the drug was needed for a "procedure."
The complaint said it is not clear how Jones got a prescription notepad from a licensed doctor, but the doctor was not treating Hunter and said the prescription was not written by anyone in his office.
Authorities said that, after obtaining the drug, Jones called Hunter numerous times claiming to be the pregnant woman's doctor's office and telling Hunter that her doctor had sent a prescription for her to pick up and take immediately.
Hunter immediately took the drug after receiving the phone calls, thinking it was a legitimate prescription from her doctor, authorities said.
Soon after, she was rushed to a hospital with severe abdominal pain, and gave birth to a boy.
A source at the Brooklyn district attorney's office confirmed to CNN that following the child's birth, an unidentified man went to the hospital with what he claimed was breast milk for Hunter's baby, but the liquid was later determined to be toxic. Hospital staffers alerted police.
New York police say they are still investigating that incident and looking for the man involved.
According to authorities, in addition to attempted abortion and assault, Jones has been charged with reckless endangerment, forgery of a medical prescription, possession of a forged instrument and criminal impersonation.
An unidentified male at the Hunter residence responded to a phone call from CNN by saying that "nobody has any remarks about that situation."
Jones was arraigned on Saturday and is being held without bail. She is expected to appear again at a court hearing on Wednesday.
CNN's Jamie Guzzardo contributed to this report.