Third person charged with helping suspected cop killer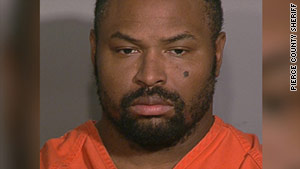 Three people have now been charged in the Maurice Clemmons case, accused of helping him elude police.
STORY HIGHLIGHTS
Ricky Hinton is charged with three counts of rendering criminal assistance
Prosecutor: He helped Maurice Clemmons flee police after gunning down four officers
Brothers Eddie Davis and Douglas Davis also have been accused of helping Clemmons
Seattle, Washington (CNN) -- A third person was charged with helping a suspected cop killer elude police during an intense manhunt in the Seattle area, prosecutors said Thursday.
Ricky Hinton was charged with three counts of rendering criminal assistance for allegedly helping Maurice Clemmons flee police after he gunned down four officers, prosecutors said.
"We are all relieved to have the killer Maurice Clemmons off the street," said Pierce County prosecutor Mark Lindquist. "But there is still work to be done. We will not rest until everyone who assisted the killer, in any way, is brought to justice."
The manhunt for Clemmons started Nov. 29, when police say he entered a coffee shop and fatally shot four Lakewood, Washington, officers.
The two-day manhunt stretched across the Seattle and Tacoma areas until Clemmons was fatally shot by Seattle police. During the search, authorities said, Clemmons was helped by family and friends.
Police also have charged Eddie Davis and Douglas Davis with rendering criminal assistance, a felony, for allegedly helping Clemmons escape arrest.
Hinton, who is Clemmons' half-brother, is accused of lying to police about knowing where Clemmons was and telling his 12-year-old grandson to delete all of Clemmons' phone numbers from Hinton's cell phone, CNN affiliate KING reported.
Prosecutors said they might file charges against other people suspected of helping Clemmons.
The three who have already been charged all have felony criminal records.