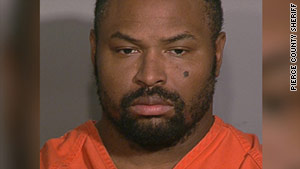 Five people have been accused of assisting Maurice Clemmons in his efforts to avoid capture.
STORY HIGHLIGHTS
NEW: Woman told police she's Clemmons' friend; other woman described him as "family"
Women said to provide transportation, medical treatment for Maurice Clemmons
Three men were charged earlier, accused of rendering assistance
Police say Clemmons fatally shot four police officers in coffee shop
Seattle, Washington (CNN) -- Two more people were charged Friday for allegedly helping a suspected cop killer elude police during an intense manhunt in the Seattle, Washington, area, prosecutors said.
Letrecia Nelson, 52, and Quiana Williams, 26, allegedly provided transportation, medical supplies and medical treatment to Maurice Clemmons, who police said fatally shot four Lakewood, Washington, officers in a coffee shop on November 29.
Clemmons, 37, was shot and killed by a Seattle police officer after a two-day manhunt that stretched across the Seattle and Tacoma, Washington, metropolitan areas. During the search, authorities said, Clemmons was helped by family and friends.
Nelson faces six counts of rendering criminal assistance in the first degree, and Williams faces five counts of the same felony charge, prosecutors said in a news release. An additional count of possession of a stolen firearm was tacked to Nelson. Both are accused of hiding Clemmons after the quadruple homicide, prosecutors said.
Williams told police she is a friend of Clemmons and Nelson described Clemmons as "family," according to court documents. The day after the police shooting in the cafe, police talked to Nelson about Clemmons but said she had not heard from him since Thanksgiving, according to a court record. She also told police that because Clemmons was "family" she "would not tell even if she knew," the record said.
But a day after Clemmons was killed, Nelson recanted, saying she helped care for Clemmons, who had been shot, and had also concealed the handgun he told her he took from one of the slain officers.
Authorities earlier charged Ricky Hinton, 47, Eddie Davis, 20, and Douglas Davis, 22, with rendering criminal assistance for allegedly helping Clemmons escape arrest. Hinton told authorities that he is Clemmons' half-brother and neighbor, according to a court document.
At the time of the police shooting, Clemmons was an Arkansas parolee under corrections supervision in Washington.
Clemmons grew up in Washington before moving to Arkansas, where he was convicted and sentenced in 1989 to 108 years in prison on charges that included aggravated robbery and property theft.
Then-Arkansas Gov. Mike Huckabee commuted Clemmons' sentence in 2000, citing his young age at the time of his crimes: 16. Huckabee's action made Clemmons eligible for parole, which was granted. Huckabee has recently taken some heat for his decision.
"You're looking at this nine years later and trying to make something as if I can look in to the future," Huckabee said Wednesday before a speech at Jacksonville University in Florida.
"I wish I could have. Good Lord, I wish I had that power. I wish I could have done that. But I don't know how anyone can do it," he said.
Clemmons had served 11 years of his sentence before he was released.
In July, Clemmons was arrested in Washington on charges of child rape but was released on $150,000 bail in November. That was six days before the four police officers were shot to death while they sat in a coffee house, about to begin their shifts.