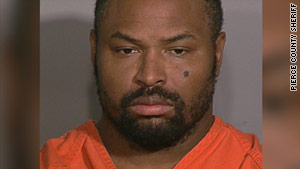 Two men have been accused of assisting Maurice Clemmons in his efforts to avoid capture. Clemmons died early Tuesday.
STORY HIGHLIGHTS
Sheriff's spokesman says there's a "strong possibility" other people will be arrested
Several people allegedly helped gunman who killed four police officers
Maurice Clemmons, 37, was shot and killed by Seattle police early Tuesday
Mike Huckabee takes responsibility for granting suspect clemency in 2000
Tacoma, Washington (CNN) -- There is a "strong possibility" that more people will be charged following the fatal shootings of four police officers in Washington state last weekend, officials said.
Two people accused of helping the suspected gunman evade authorities appeared in court Tuesday, and a third also may be charged, authorities said.
Maurice Clemmons, 37, was shot and killed by Seattle, Washington, police early Tuesday. Police believe he entered a coffee shop Sunday and shot four Lakewood, Washington, officers to death as they met before their shift began.
Clemmons had been the subject of a two-day manhunt stretching across the Seattle and Tacoma, Washington, metropolitan areas.
Eddie Davis and Douglas Davis are charged with rendering criminal assistance, a felony, Pierce County prosecutor Mark Lindquist said. A third man has not been charged, but a judge, at the request of prosecutors, ordered him held for 72 hours pending further investigation.
"We are all relieved to have Maurice Clemmons off the street, but there is still work to be done here," Lindquist said. "When you help a criminal, you become a criminal."
Also in custody is the man police believe drove Clemmons' getaway car. Authorities think the man parked the car two blocks away and waited for him, said Ed Troyer, Pierce County Sheriff's Department spokesman. He did not identify the man.

Video: 'Should have been locked up'

Video: Suspect in police deaths dead
Those accused of trying to help Clemmons provided medical aid, housing, a cell phone and money and were trying to get him out of the state, Troyer said. They also called in false leads to police to divert investigators.
"They're going to pay for it," he said. "They're guests of ours."
He told reporters Tuesday afternoon the Davises, who are brothers, "knew they were being looked for" and continued to help Clemmons.
Troyer said police are continuing to interview people and more arrests are likely.
Meanwhile, former Arkansas Gov. Mike Huckabee on Tuesday said he accepts "full responsibility" for granting Clemmons clemency in 2000.
Clemmons had a criminal history in Arkansas and Washington. In May 2000, Huckabee commuted his 108-year prison sentence to make him immediately eligible for parole, which was granted by the parole board two months later. Clemmons had been sentenced to 95 years, to run after time he was already serving on previous convictions.
Watch Clemmons' prosecutor criticize Huckabee's decision
In a statement on the conservative news Web site Newsmax.com, Huckabee wrote that he commuted Clemmons' sentence from 108 years to 47 years. Reports that he had pardoned Clemmons or set him free were erroneous, he said.
"I take full responsibility for my actions of nine years ago," Huckabee said. "I acted on the facts presented to me in 2000. If I could have possibly known what Clemmons would do nine years later, I obviously would have made a different decision. But if the same file was presented to me today, I would have likely made the same decision."
Huckabee was a Republican presidential candidate in the 2008 election and has not ruled out another White House bid in 2012. During his 2008 campaign, he was criticized for granting clemency to another inmate, convicted rapist Wayne DuMond, who was later convicted of raping and murdering a woman in Missouri.
"Between 1,000 and 2,000 requests for some form of clemency came to my desk each and every one of the 10½ years I was governor," Huckabee said Tuesday. "Ninety-two percent of the time, I denied the requests."
FOLLOW THIS TOPIC