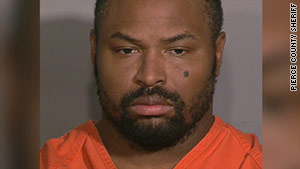 Two men have been accused of assisting Maurice Clemmons in his efforts to avoid capture. Clemmons died early Tuesday.
STORY HIGHLIGHTS
Governor has "major questions" about whether Arkansas is living up to responsibilities
Washington, Arkansas have agreement to supervise parolees from other states
Decision comes after shooting of four officers by suspect who was Arkansas parolee
SEATTLE, Washington (CNN) -- The governor of Washington on Wednesday said her state will no longer accept convicted criminals on parole from Arkansas until the interstate system has been reviewed and she has determined that Arkansas is living up to its responsibilities.
The announcement came in the wake of four Lakewood, Washington, police officers being shot dead Sunday near Seattle, allegedly by Maurice Clemmons, an Arkansas parolee with a lengthy criminal record in Arkansas.
"I am so troubled that today I've asked to discontinue, under interstate compact, accepting any individuals from Arkansas until we can have a further review of not only the interstate compact system and whether it's really living up to its responsibilities, but the question of whether Arkansas is living up to its responsibilities and I have a major questions in my head about that," Gov. Christine Gregoire said.
Gregoire said until the two states can resolve the dispute over their Clemmons case, she has instructed the Washington Department of Corrections to no longer accept parolees from Arkansas.

Video: Beebe responds to Gregoire

Video: Gov. Gregoire on Huckabee
Under a nationwide agreement, Washington currently supervises about 2,500 parolees from other states, including 15 from Arkansas, according to the state Department of Corrections. Roughly 1,000 Washington parolees are supervised by other states under the same agreement.
Arkansas corrections officials would not comment on Washington state's decision to no longer accept parolees. But spokeswoman Rhonda Stuart said Arkansas followed protocol.
"They had the warrants to keep [Clemmons] in jail," she said but added the state may make changes to how Arkansas operates its parolee agreements. "Arkansas reviews every case -- not just this tragedy -- and will sit down and try to determine where improvements can be made."
But a spokesman for the Pierce County Sheriff's Office, which led the investigation into the shootings, said any changes come too late. "It won't make a difference here," spokesman Ed Troyer told CNN, "If I was in another state I sure wouldn't take any people from Arkansas."
Arkansas Gov. Mike Beebe told CNN affiliate KARK that he hadn't heard about Gregoire's decision. "You know they've been through a tough time out there, and it's a terrible situation, so I wouldn't speculate on what they're doing in Washington."
Clemmons grew up in Washington before moving to Arkansas, where he was convicted and sentenced in 1989 to 108 years in prison for aggravated robbery and property theft.
Former Arkansas Gov. Mike Huckabee in 2000 commuted Clemmons' sentence, citing his young age at the time of his crimes -- 16. Huckabee's action made Clemmons eligible for parole, which was granted. Huckabee said Tuesday he "takes full responsibility" for that decision.
Earlier Huckabee said failings in both Arkansas and Washington's legal systems contributed to the tragedy.
In 2004, according to Washington state corrections records, Clemmons requested and received a transfer to the state, where he had relatives. However, he was arrested in March for allegedly throwing rocks at car windows and assaulting officers. When he failed to report to his parole officer, Washington officials notified the Arkansas Department of Community Correction which issued a warrant for Clemmon's arrest.
The warrant was quashed after Clemmons was arrested in July in Washington on child rape charges. "The warrant was rescinded because he was no longer a fugitive, he was in jail in Washington," said Rhonda Smart, spokeswoman for Arkansas community corrections.
According to e-mails and documents released this week by the Washington Department of Corrections, officials there pushed their counterparts in Arkansas to reinstate the warrant for Clemmons and take the convict back.
"I am concerned that you have no problem releasing your offender into our community based on his behavior," read a July 23 e-mail from Washington Corrections administrator Marjorie Owens to officials in Arkansas. "Hopefully the offender will not make bail."
In October, Arkansas issued a new warrant for Clemmons' arrest, but according to Washington Corrections officials the warrant is not valid outside Arkansas.
The following month Clemmons was released on $150,000 bail. Six days later, police say, he shot and killed four police officers in Washington state while they sat in a coffee house about to begin their shifts. Clemmons had bragged to friends and relatives that he was going to target police officers, according to a spokesman for the Pierce County Sheriff's Office.
He was shot dead Tuesday by a Seattle police officer, ending the intense manhunt. Six of Clemmons friends and relatives are facing charges for allegedly helping him elude authorities.