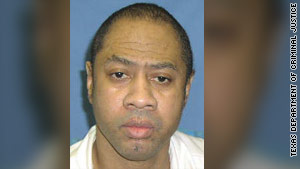 Arcade Comeaux Jr. escaped with two guards' guns while he was being transferred between prisons, authorities say.
STORY HIGHLIGHTS
NEW: Escapee's mom: "How did my son come in contact with a gun inside the prison?"
Authorities: Inmate was being moved between prisons when he revealed gun
Man, who was in wheelchair, confined guards; senator says chair might have been ruse
State senator: "We just can't have security breaches of this nature"
(CNN) -- The man who oversees Texas' criminal justice system called Wednesday for a shake-up as authorities searched for a prisoner in a wheelchair who escaped on foot Monday from two armed guards as he was being transferred between prisons.
"I just think enough's enough," said state Sen. John Whitmire, a Democrat from Houston who is chairman of the state Senate's Criminal Justice Committee.
"We need a complete shake-up of the leadership of our prison system and/or an outside review by third parties," he said of the escape of Arcade Comeaux Jr., 49. "We just can't have security breaches of this nature."
The 6-foot, 200-pound Comeaux was serving a life sentence for aggravated sexual assault and two counts of aggravated assault with a deadly weapon.
A van containing him and two correctional officers left the Estelle prison in Huntsville about 5:45 a.m. Monday, bound for the Stiles prison in Beaumont, where Comeaux was being reassigned, said Michelle Lyons, director of public information for the Texas Department of Criminal Justice in Huntsville, in a written statement.
Comeaux was shackled and in a wheelchair, "which he had claimed was needed for mobility," Lyons said.
About 45 minutes into the trip, as they were driving through Conroe, 40 minutes north of Houston, the prisoner pulled out a pistol and ordered the guards to drive south to Baytown, east of Houston. There, he took one of the guards' gray uniforms, handcuffed the officers together and left them in the rear of the van, Lyon's statement said.
He fired once during the incident but hit no one, an official said.
Comeaux fled at about 9 a.m., leaving his weapon but taking the officers' two semiautomatic pistols and a 12-gauge shotgun, Lyons said.
Law enforcement officers found the unharmed officers an hour later.
Comeaux was being transferred to Beaumont so he would be near John Sealy Hospital in Galveston, for treatment of the supposed paralysis he had suffered during a reported stroke, Whitmire said.
"There's a theory working that he staged the whole thing," the senator said. "He's a con; he's a manipulator, and he's outfoxing the people who are charged with the responsibility of keeping him securely incarcerated."
John Moriarty, inspector general of the Texas Department of Criminal Justice, said that such lapses are highly unusual in the Texas penal system.
"We have no open gun investigations other than this one," he said. "The last one was several years ago."
Meanwhile, $16,000 in reward money has been offered for information leading to Comeaux's rearrest, and more than 100 investigators are searching for the escapee, focusing on the Houston area, where he grew up and has relatives.
Among them is Comeaux's mother, Joyce Comeaux.
"I'm trying to find out what the heck happened," she said from her home in Houston. "How did my son come in contact with a gun inside the prison? I know he didn't leave and go shopping. I'm looking at a corrupt system here."
She added, "How did a young man who's shackled overpower two guards with a gun?"
The mother of 11, of whom Arcade was her third, said she was concerned that her son is possibly being set up to be killed.
"My husband is devastated, as I am," she said.
"His record is bad, and I admit that. I'm not hiding that."
She said she hopes he returns to his parents' house "so that I can talk to him, give him a good meal, a good bath, and send him back where he come from."
Whitmire said previous discussions of contraband in the prisons had centered on cigarettes and cell phones, but Monday's escape has upped the ante.
"Now we see that weapons have entered our prisons," he said.
He said the guards had failed to pat down Comeaux while he was in his wheelchair and before they began the trip.
"Sure enough, he has a firearm," he said. "The question is, are there others? I think you have to assume that there are until you find out differently."
This year, more than 900 cell phones have been confiscated from the 112 locations that house the state's 158,000 prisoners.
"I want the director to come forward and tell us what it's going to take" to solve the problem, Whitmire said.
Texas Department of Criminal Justice Executive Director Brad Livingston, who has been in the job since 2005, did not immediately respond to a call seeking comment.
Comeaux's criminal record dates back more than three decades. In 1979, he received three 10-year sentences for rape of a child, aggravated rape of a child and burglary of a building with the intent to commit theft, all in Harris County.
He was released on mandatory supervision in 1983, but he was returned to prison in 1984 after being convicted of indecency with a child and sentenced to 20 years.
In June 1991, he was released on mandatory supervision but returned as a violator four months later. Paroled in December 1993, he was returned as a parole violator a year later. In February 1996, he was again paroled but was returned to prison in June 1998 with a life sentence for aggravated sexual assault.
Though he had been in prison ever since, his criminal record didn't end. In July 1999, he used his wheelchair to pin his wife against a wall during a contact visit and stabbed her 17 times with a homemade knife, Moriarty said. He also stabbed another prison visitor who tried to intervene; both victims survived.
For that, Comeaux was convicted on two counts of aggravated assault with a deadly weapon and received two additional life sentences.