Reward offered for missing multimillion dollar lotto winner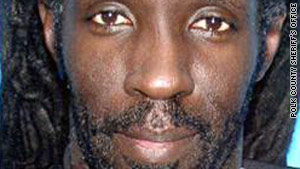 The family of Abraham Shakespeare reported him missing November 9.
STORY HIGHLIGHTS
$5,000 reward offered for info on Abraham Shakespeare, who has been missing since April
Shakespeare is considered a missing person, possible crime victim, not a suspect in a case
A co-worker sued Shakespeare after he won $31 million in 2006; jury sided with Shakespeare
(CNN) -- Authorities in Florida are offering a $5,000 reward for information on a multimillion dollar lotto winner who has been missing since April.
The family of Abraham Shakespeare, 43, reported him missing on November 9, according to the Polk County Sheriff's Office. When Thanksgiving passed without word from him, authorities raised the reward in an effort to get information, spokeswoman Donna Wood said.
"The fact that he's been gone since April, no contact with family, and that Thanksgiving holiday has come and gone with no word from him, that's a concern," Wood said.
"We are hoping that the offer of a reward for information leading to his whereabouts will challenge someone who may have seen him or know where he is to come forward."
Shakespeare won $31 million in the Florida Lottery in 2006. A co-worker sued him in 2007, claiming that Shakespeare stole the ticket from him. Shakespeare prevailed in a jury trial.
Anyone with information on Abraham Shakespeare can contact Polk County Det. David Clark at 863-534-6379 or 863-534-6200.
"We have a man who certainly has the means, being a lottery winner, to take himself into seclusion. If that's what he has chosen to do, no law says can't do that," Woods said. "If that's the case, all we need is a phone call or some confirmation to verify his well-being. But we can't take the chance that something else might have happened."
Woods emphasized that Shakespeare is not a suspect in an open investigation.
"Until we can verify his whereabouts, we consider him missing and potentially a victim of a crime," she said.
Shakespeare, of Lakeland, made local headlines after hitting the lottery, when a fellow truck driver took him to court over allegations that Shakespeare stole the tickets from his wallet while the two were driving to Miami, delivering meat to restaurants, according to the Lakeland-area newspaper, The Ledger.
Shakespeare's lawyers claimed that he gave his colleague, Michael Ford, money to buy the tickets during a convenience store stop. A jury took less than two hours to side with Shakespeare, The Ledger reported.
The Polk County Sheriff's Office described Shakespeare as a black male, with brown eyes and black hair. He is about 6 foot 5 inches tall and weighs about 190 pounds.