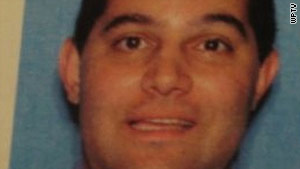 Detectives are looking for Paul Michael Merhige, 35, in connection with fatal shootings in Jupiter, Florida.
STORY HIGHLIGHTS
Police are still looking for the man accused of fatally shooting 4 relatives on Thanksgiving day
Authorities in suburban Detroit have been alerted to look out for the suspect, Paul M. Merhige
Merhige, 35, has sought treatment from a Michigan doctor within the past year, police say
(CNN) -- Authorities in suburban Detroit have been alerted to be on the lookout for the suspect in a Thanksgiving day shooting that killed four people in Jupiter, Florida, officials said Monday.
"Any time we uncover anything about the suspect's past, we have an obligation to alert authorities in that area," said Jupiter Police Department public information officer Scott Pascarella, talking about Paul M. Merhige.
Within the past year, Merhige, 35, had sought treatment from a doctor at Botsford Hospital in Farmington Hills, Michigan, Pascarella said. He did not know the doctor's name or specialty, and he downplayed the magnitude of the risk.
"We don't have anything specific that says he is in fact heading to Michigan," he said.
A spokeswoman for the hospital, Nancy Dumas, said she was not aware of the link. Farmington Hills is located northwest of Detroit.
The doctor lives in nearby Birmingham, officials said.
"We've talked to the doctor and taken some precautionary measures, but there's nothing to indicate that he's coming to Birmingham or the state," Birmingham Police Chief Richard Patterson told CNN on Monday. "Apparently, they had developed some information a day after the homicide from either the family members or from a psychologist or psychiatrist that he was out to get everybody who ever touched his life."

Video: Girl, 6, among shooting dead

Video: Deadly Thanksgiving shooting
He would not identify the doctor who treated Merhige, saying only that he was neither a psychologist nor a psychiatrist.
Authorities in the Florida coastal town of Jupiter issued an arrest warrant Saturday for Merhige, who is suspected in the shooting deaths, which included his twin sisters.
A prayer vigil for friends and family of the twin sisters is to be held Monday night at Our Lady of Lebanon Church in Miami, a man who answered the phone there told CNN.
"They were faithful churchgoers," church member Al Maloof told CNN affiliate WSVN on Saturday. "The whole community is devastated over this, totally devastated."
Merhige faces four counts of first-degree murder and two counts of attempted first-degree murder, the Palm Beach County State Attorney's Office said in a statement. The U.S. Marshals Service has joined the search for Merhige, and offered a $10,000 reward for information leading to his arrest.
The shooting victims include Merhige's 6-year-old cousin, Makayla Sitton; his 33-year-old twin sisters, Carla Merhige and Lisa Knight; and 76-year-old Raymond Joseph, police said.
Two others -- Patrick Knight and Clifford Gebara -- were wounded, police said.
Interviews with family members suggest that Merhige "had ongoing resentment" for some of his relatives, said Sally Collins-Ortiz, a spokeswoman for Jupiter police.
The shootings, which occurred about 10 p.m. Thursday after Thanksgiving dinner, came without warning, said Jim Sitton, who was two seats from Merhige at the time.
"It was completely out of the blue," he told CNN affiliate WPTV on Friday. "He's evil."
Sitton said he ran from his house, hoping to draw Merhige in pursuit and away from the others.
But his plan didn't work.
"This monster walked into my daughter's room in the dark -- she was asleep," said Sitton, referring to Makayla. "He shot her point blank in the head, point blank in the heart and a couple of other places. Who does this? I've been a news photographer for 25 years; I've never seen a baby executed like this. It's just pure evil."
He told CNN affiliate WPTV on Friday that, prior to the shootings, he had just put his daughter to bed. "We had a tender moment and I kissed her goodnight," he said. "I put her to sleep and she woke up with Jesus."
Merhige is thought to have escaped in a blue 2007 Toyota Camry with Florida license plate number W42 7JT, police said.