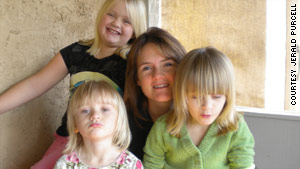 Christine Belford was reunited with her three daughters, who were kidnapped by their father for 19 months.
STORY HIGHLIGHTS
More than 200,000 incidents of family abductions occur in the U.S. each year

Christine Belford's three daughters were kidnapped by their father in 2007

Authorities launched a search that spanned at least four countries and several states

The children were found in Nicaragua, living in a trailer with their father and grandmother
(CNN) -- Christine Belford agreed to let her ex-husband take their three daughters to Disney World for a two-week vacation. In August 2007, the Delaware mother kissed her little blond girls goodbye.
Those two weeks were unsettling for Belford, then 34. The couple went through a bitter divorce in 2006 which resulted in joint custody of the children. Belford said when the girls were with their dad, they were always difficult to reach.
Two days into the trip, Belford connected by cell phone with her oldest daughter, Laura, then 5. Already homesick, chubby-faced Laura cried as her father checked them into a hotel room.
"I want to come home," Laura pleaded with her mother.
But Laura and her sisters wouldn't return to their Delaware home for 19 months.
Their father, David Matusiewicz, pleaded guilty to international parental kidnapping and bank fraud charges in September. He faces up to 30 years in prison and is scheduled to be sentenced on Thursday. CNN attempted to reach Matusiewichz in jail through his attorney, Heriberto "Eddie" Medrano, in Houston, Texas, but Medrano did not return the calls.
Kidnapping victims like Laura and her sisters -- Leigh, then 4, and Karen, then 2 -- often don't make national headlines the way victims of alleged abductions by strangers do, such as Jaycee Dugard and Elizabeth Smart. But each year, most child abductions are perpetrated by someone the victim knows.
The U.S. Department of Justice reports more than 200,000 children are victims of family abductions in the United States each year. Of that figure, about 56,500 cases are reported to local law enforcement authorities and require investigation, studies show. In comparison, the U.S. Department of Justice reports an average of 115 stranger abductions a year.
Family abductions commonly involve children under 6, too young to comprehend that a crime is occurring, studies show.
Over the last few decades, high divorce rates have led to custody disputes and to kidnappings, experts say. Yet the public still perceives family abductions as a less serious crime because the victims are with a family member who is less likely to hurt them.
"The view is that this is not really a criminal problem," said Ernie Allen, president of the National Center for Missing & Exploited Children. "[The view is] this is a civil problem and lawyers need to work it out."
There are 1,600 unsolved family abduction cases involving children who have been missing for more than six months, he said.
A puzzling escape
In 15 years on the police force, Cpl. Jeff Shriner of the New Castle, Delaware, Police Department said he found Matusiewicz's abduction of his children to be the most bizarre missing person case he'd encountered.
Normally, the perpetrator in a family abduction is located within hours or days. Sometimes, abductions occur because the parent is angry, Shriner said, but they usually change their minds within a few days.
But Matusiewicz "was a needle in a haystack and that needle was buried very deep," said Shriner, who was assigned as the lead detective on the case.
Shriner quickly determined the Disney World vacation never happened.
Sales records showed Matusiewicz's mother, Lenore, had purchased a 33-foot Winnebago mobile home weeks before the disappearance, according to court records. She also was missing.
That month, Matusiewicz had sold his optometry business to a partner, police said. He had also committed mortgage fraud by forging his wife's signature on a $249,000 loan from a bank in Delaware, police said.
The couple had met in 1993 when Belford worked as a receptionist at an eye doctor's office in Delaware. Matusiewicz worked as an optometrist there. They were married in October 2001.
The couple's union became problematic in 2003 when his parents moved in, Belford said. Matusiewicz was a loving father to his girls, but during the breakup, she said, the couple had problems.
Some parents say they take their children away to protect them from an abusive or unfit parent, said Liss Hart-Haviv, founding executive director of Take Root, a national organization that works with victims of family abduction. In other instances, Hart-Haviv said, parents may take children out of spite.
"The critical thing to remember," she said, "is there's not one face to family abduction. It's a multifaceted issue."
Abduction goes abroad
In most family abduction cases, studies show victims often remain within the country. But circumstances are changing. Easier access to foreign countries and a growing number of intercontinental marriages have made international hideouts more common, missing children experts said.
In October, Japanese authorities released an American man, Christopher Savoie, who was jailed for allegedly trying to take back his children from his estranged wife. His wife, Noriko Savoie, had fled with the children to Japan in August, authorities say. Japanese officials said the couple's U.S.-recognized divorce did not apply in Japan. Christopher Savoie, who was not charged, returned to the U.S. The children remained with their mother in Japan.
A multilateral treaty known as the Hague Convention was ratified in 1980. It provides member countries with rules on returning abducted children under the age of 16. Today, more than 80 countries have signed the treaty. But with countries that haven't, like Japan, determining what happens to the children is murky.
In Belford's case, local and federal agencies initially launched a search for the girls. They began in New Jersey, where Matusiewicz was raised. Then they combed through dozens of leads in Virginia and West Virginia. A tip led them to become suspicious the girls might be in Texas or Mexico.
By November 2007, authorities shifted their attention to Central America. They hunted for Matusiewicz in Panama and Costa Rica over the next year. Locating him was tricky, authorities say, because he relied on cash transactions and limited phone calls with his family in the United States.
"He was very smart and did a lot of things before leaving and during the time he was gone to cover his tracks," said Rick Long, chief deputy U.S. Marshal in Delaware, who helped with the search efforts.
It wasn't until March 2009 that a lead, on which authorities declined to elaborate, brought law enforcement officers to a town about 40 miles outside of the Managua, Nicaragua.
There, at the end of a 19-month search, authorities discovered the girls inside a messy Winnebago trailer, overfilled with items from their Delaware home, said a U.S. Marshal who arrived on the scene. Matusiewicz had less than $100.
Reunited at last
Christine Belford took the first flight she could to Nicaragua. Her girls were healthy, though disheveled. The eldest, Laura, now 7, told her mother about sleeping on the beach in Costa Rica. The once-plump girl had become thin. Her autistic daughter, Leigh, now 6, hadn't received treatment. When Leigh smiled, Belford noticed her teeth had rotted.
The most changed child was Karen, who left at age 2. She had transformed from a baby into a 4-year-old who could speak and run alongside her sisters.
Family abductions are less likely to result in death or sexual abuse than stranger abductions, but psychologists warn that the experience can still greatly impact a child's development. In three decades counseling family abduction victims, clinical psychologist Linda Gunsberg has seen children with trust, identity and attachment issues. The deceit and the abrupt changes in living conditions can cause a child to be confused, anxious and depressed.
"The younger girls say they miss Daddy," said Belford, now 37. "I tell them he's in time out right now." Laura, the oldest, is doing well in the second grade, but she continues to experience nightmares. During the time she was abducted, she was told her mother was dead, Belford said.
"She's in her angry phase," Belford said. "I tell her it's OK to love them and miss them because they are still your dad and grandma."
In September, the grandmother, Lenore Matusiewicz, 64, was sentenced to 1½ years in prison for her role in the abduction. She is being held in Baylor Women's Correctional Institution in Delaware.
"She is very sorry for her choice," said her attorney, Demetrio Duarte Jr., based at a Texas firm. "In life, it's not all black and all white. To be severed from mom wasn't the right thing to do. To be severed from grandma isn't the right thing to do. It's just tragic."