STORY HIGHLIGHTS
NEW: Police name 37-year-old man as "person of interest"
NEW: Man has "extensive violent criminal history from Arkansas," police say
Four police officers fatally shot in coffee shop near Tacoma, Washington
One of the officers fought gunman, may have shot him, police say
Lakewood, Washington (CNN) -- Whoever fatally shot four police officers Sunday in a coffee shop outside Tacoma, Washington, may have been wounded by one of the victims, police said.
Authorities are trying to determine who killed four Lakewood police officers in the shop in neighboring Parkland on Sunday morning. Investigators are checking with area hospitals to determine whether the gunman sought treatment after the shooting, Pierce County sheriff's spokesman Ed Troyer said.
"There's ... evidence that a Lakewood officer fired some shots, and we hope he hit him," Troyer said.
Troyer said authorities are seeking Maurice Clemmons, 37, of Pierce County as a "person of interest." He did not identify Clemens as a suspect.
Authorities identified the victims as Sgt. Mark Renninger, 39; Officer Ronald Owens, 37; Officer Tina Griswold, 40; and Officer Greg Richards, 42.
The officers were sitting in the coffee shop before the start of their shifts when a gunman shot them at about 8 a.m. PT, Troyer said. The shop is a place where area law enforcement officers regularly gather to share information, he said.
The attacker walked to the counter as if to order coffee before he pulled a gun out of his coat and fired, Troyer said. Two of the officers were "executed" as they sat at a table, another was shot when he stood up, and the fourth was shot after struggling with the gunman all the way out the door, Troyer said.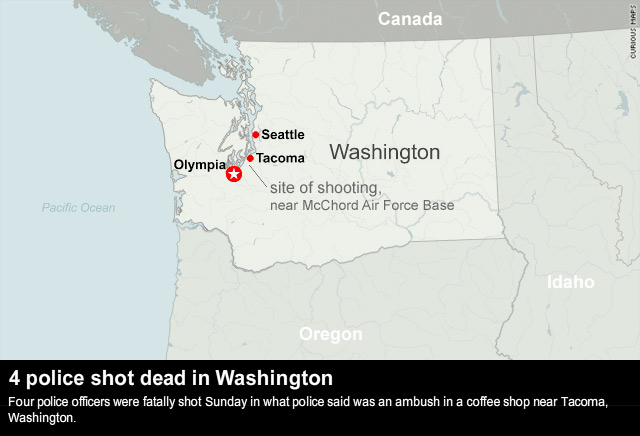 Map: Shooting in Washington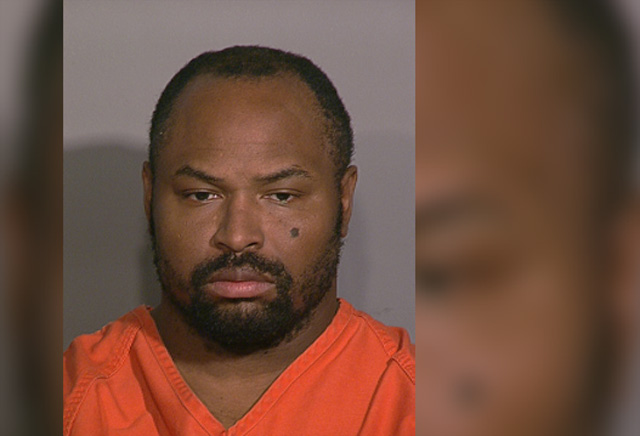 Photo: "Person of interest"

Video: Police officers 'ambushed'
"After, we believe, some of the officers were shot, one of them managed to fight his way with the suspect ... all the way out the the doorway until he was shot and died of a gunshot wound," Troyer said.
Sunday's incident was the first time the Lakewood police department lost any officer to a shooting.
Two employees of the coffee shop and other customers inside Forza Coffee Company were unharmed, Troyer said. One employee fled through the back door when she saw the shooter pull out his gun, he said.
"As you can imagine, they are traumatized," he said of those inside the coffee shop. "Some are in shock."
Investigators have not come up with possible motives, police said.
Families of the officers have been notified, Troyer said. All of the officers were in uniform, wearing vests and had marked patrol cars parked outside, he said.
Police are looking for one man in connection with the attack, though authorities are not ruling out the possibility that a second person was involved, Troyer said. A $10,000 reward was offered for information leading to an arrest, he said. Surveillance tapes from multiple location are being reviewed.
Authorities were conducting searches in numerous locations, and dogs had been brought in to attempt to track the shooter, Troyer said.
Investigators believe Clemmons, the person of interest, "is intentionally avoiding us," Troyer said.
Clemmons has "extensive violent criminal history from Arkansas, including aggravated robbery and theft," the sheriff's department said in a statement.
He also was recently charged in Pierce County in connection with the assault of a police officer and the rape of a child, according to the statement.
According to a local prosecutor in Arkansas and past articles published by the Arkansas Democrat-Gazette, a repeat offender named Maurice Clemmons had his 95-year prison sentence commuted in 2001 by then-Arkansas Gov. Mike Huckabee.
Huckabee cited Clemmons' young age -- 17 at the time of his sentencing -- when he announced his decision, according to newspaper articles.
"It was not something I was pleased with at the time," Larry Jegley, who prosecuted Clemmons for aggravated robbery and other charges in Pulaski County, Arkansas, told CNN Sunday. "I would be most distressed if this is the same guy."
Jegley said he was told Sunday by "media and police agencies" that the former Arkansas inmate was the same man being sought in Washington state.
Some tips have come in, and investigators were following leads, one of which turned out to be "an unfortunate hoax," Troyer said. A Tacoma man called "multiple people" claiming to be the gunman, though authorities determined the man was lying.
The man was arrested and now faces obstruction charges, Troyer said.
A couple of blocks surrounding the coffee shop were cordoned off. Several other police agencies were on scene to assist.
Washington Gov. Christine Gregoire, in a statement, said she was "shocked and horrified" at the shootings.
"I offer whatever support is needed to the Pierce County Sheriff in their search for the perpetrator," Gregoire said.
Lakewood is about 40 miles south of Seattle and 10 miles southwest of Tacoma.
See a map of where the shootings took place
Bystanders gathered outside the Forza Coffee Company, some of them in tears as they spoke to CNN affiliate KING.
The coffee shop is on the edge of McChord Air Force Base. Spokesman Bud McKay said the base was not shut down, but security was ramped up around the perimeter as a precaution.
The military has offered assistance to police, he said, but it has not been requested.
CNN's Patrick Oppmann, Samira Simone, Dave Alsup and Dina Majoli contributed to this report.
FOLLOW THIS TOPIC