 STORY HIGHLIGHTS
Three girls overdosed on methadone on Wyoming reservation in June 2008
Girls were 13, 14, and 15; all had plans for school or vocational training
Girls' parents say two boys were prosecuted and sent to a juvenile facility
Federal authorities won't discuss case; court records are under seal
Wind River Reservation, Wyoming (CNN) -- On a warm summer night last June, James Gardner gave his daughter permission to sleep over at a friend's house, something he almost never let her do.
Ohetica Win, a member of Wyoming's Northern Arapaho tribe, was a tall, striking 13-year-old who looked much older. Gardner had lived most of his life on the Wind River Reservation and he didn't trust many people there.
But he decided to make an exception. Elyxis, as Ohetica was known, had been good lately. She ended the school year with decent grades and looked forward to starting her freshman year at Riverton High, the school off the reservation attended by white students.
"She was always with me because I was protective of her because she's a girl, and on this rez, there's crazy people," says Gardner, a maintenance worker at the Wind River Casino, one of the reservation's biggest employers.
Elyxis never made it home. Neither did Winter Rose Jenkins, the friend she was supposed to stay with, or Alexandrea WhitePlume, another friend who met up with the girls that night.
A day and a half later, the bodies of Elyxis and Alex were found in the bedroom of a tiny home in Beaver Creek, a low-income tribal housing community. Winter Rose's body lay about 20 yards behind the house.
The girls' families learned a month later that they had died from an overdose of methadone -- a painkiller used to wean addicts off heroin. But it was unclear where it came from or how they got it. The coroner ruled their deaths homicides.
What got lost in it all is people forget that she was a daughter and a niece and an aunt.
--Loreal Bell, Elyxis' mother
The deaths struck a deep chord in the tight-knit community of the Northern Arapaho, which has seen its share of drug- and alcohol-related deaths. The ages of the girls, 13, 14 and 15, made their loss especially tragic.
The Federal Bureau of Investigation quickly took over the case -- protocol when possible felonies occur on the reservation. The procedural move and the fact that minors were involved cloaked the case in secrecy that remains nearly 17 months later.
The girls' families say two teenage boys from the reservation were arrested in connection with the deaths. Later, the families were told that the boys struck plea deals with prosecutors -- effectively preventing details of the deaths from coming out during a trial.
Because the case involves juveniles, the FBI and the U.S. Attorney's Office in Cheyenne won't confirm that arrests or prosecutions took place. A U.S. District Court judge in Cheyenne sealed the case dockets, so CNN was unable to confirm the families' claims that the boys were sentenced as juveniles to less than two years.
When visited at his home on the reservation, a few houses down from where the girls were found, the father of one of the boys said he'd been ordered not to discuss the case.
"I wish I could talk because I would like people to know the real story because the rumors aren't true," he said. "I want people to know my real son."
A grandmother of the other boy confirmed that he was in custody.
Meanwhile, the girls' grief-stricken families grapple with the fear that their daughters will be forgotten -- or remembered, in the words of Elyxis' mother, as little more than "some dead Indian girls."
"What hurts the most -- what got lost in it all is people forget that she was a daughter and a niece and an aunt. They think oh, that poor little Indian girl that died. They forget she had hopes and dreams of her own, they forget that they were people too. They were loved," says Loreal Bell.
The Wind River Reservation, home to members of the Northern Arapaho and Eastern Shoshone tribes, spans about 2.2 million acres of stark landscape in central Wyoming. Most of the 5,000 Northern Arapaho are clustered near the tribal outposts of Ethete, Arapahoe and Beaver Creek on the eastern side of the reservation.
Flanked by the snow-capped Wind River Range to the west and the Owl Creek Mountains to the north, the communities are a loose confederation of houses, trailers, campers and farms where it's nothing to hop in the car and drive 20 miles "down the road" to visit a friend or go to the Wal-Mart in nearby Riverton.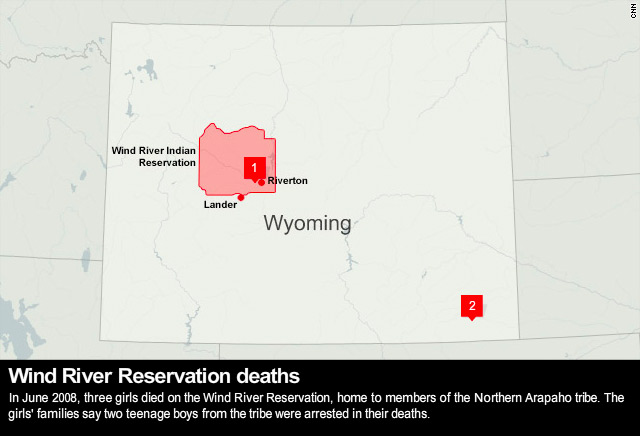 Map: Wind River Reservation deaths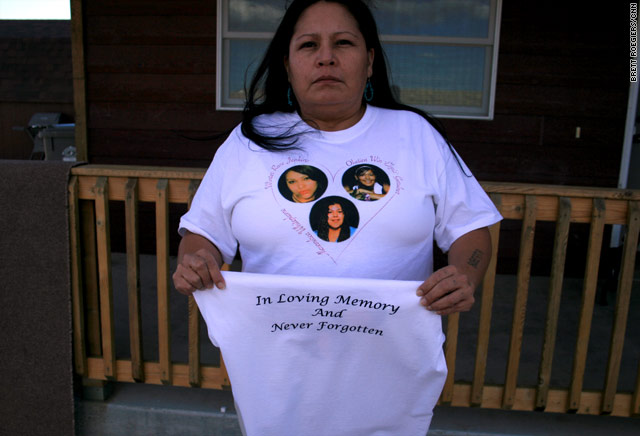 Gallery: Remembering lost teens
The vast landscape has enabled the tribe to hold onto hunter-gatherer traditions and maintain a certain level of autonomy. The odd assortment of lawn decorations, furniture, toys, garbage and multiple cars that scatter the homesteads seem typical of rural America, except for the presence of sweat lodges and pens shared by horses and llamas, which are used for their wool.
In a place where high school graduation rates hover around 30 percent and a distrust of the "white man's way" places a low value on education, these girls seemed to buck the trend: They each had plans to continue their schooling or seek vocational training.
Alexandrea had just finished her sophomore year at the Arapaho Charter School, where teachers spoke of her enthusiasm for organizing school functions and pow-wows. She planned to apply in July to the Kicking Horse Job Corps in Ronan, Montana, her mother says.
Winter Rose, 14, was also planning to attend high school, her grandfather says.
Elyxis' outgoing spirit drew in others, her father says. As a member of the Riverton Middle School volleyball and basketball teams, she enjoyed cheering from the bench just as much as playing, he says.
The night he dropped Elyxis off at Winter Rose's house, Gardner said goodbye with the admonition that "you better be good, girl."
"And these words, I hate from anyone who tells me them -- don't worry. That's what she told me. And I didn't."
The two ended up at Carmen Behan's home in Beaver Creek, on the other side of the reservation, shortly before midnight. Behan trusted her 15-year-old daughter, Alex, so she let her go out with her friends.
"I told her, you can go, but you have to be back in an hour," Behan says. "I didn't worry because it wasn't like her to go out and be gone like that."
Police would find them about 30 hours after they were last seen by Behan.
The girls' deaths highlighted how thinly law enforcement is spread over the vast territory, as well as the scarcity of youth services. Six officers responsible for patrolling the reservation are stationed in Fort Washakie, an Eastern Shoshone community about 30 miles from Beaver Creek.
I didn't worry because it wasn't like her to go out and be gone like that.
--Carmen Behan, Alex's mother
Since their deaths, housing authorities have hired security to patrol the development overnight, but the security officers are not authorized to make arrests, said Rep. Patrick Goggles, executive director of the Northern Arapaho Tribal Housing.
After the deaths, tribal leaders vowed to bring a youth center to Arapaho so teens would have somewhere to go. So far the efforts have stalled, underscoring what Goggles described as a history of unfulfilled promises in the fractured relationship between the tribe and the federal government.
Unanswered questions in the case seem like more of the same to the girls' families.
Behan, a single mother, says she has been unable to keep a job since Alex died. No matter which direction Behan takes to leave the subdivision, she passes the place where her daughter was found or the home where the family of one of the boys lives.
Elyxis' father, who says he works at the same casino as the mother of one of the boys, struggles each day with the knowledge that he will probably see her.
"I'm glad them boys are locked up because I don't know what I'd do to them if I saw them," he says. "I want justice, I want them to pay. I want them to feel how I feel. ... Like someone took something from you that you can't get back."
The families say the coroner told them that Elyxis and Alex died within minutes of snorting the methadone. Winter Rose ingested the drug and died a few hours later outside the home, before her body was dragged to a dusty mound behind the house.
The coroner was unable to tell them precisely when the girls died, but the families suspect it was some time before dawn, implying that no one called police for more than 24 hours.
The elderly woman who rents the three-bedroom home, a prefabricated structure with drink bottles, plastic bags and dog droppings scattered about the lawn, confirmed that the girls were inside for at least 24 hours before she called police.
She said her grandson told her the girls were sleeping in his bedroom.
"I didn't go in there. I just opened the door and looked in. I seen them and they were laying down," the woman said, sitting at a kitchen table cluttered with jars of medicine and cooking spices. "I didn't check to see if they were breathing."
Her grandson came home later that day and went to the room, she says. He left suddenly, telling her that he was going to a friend's house.
She said the methadone had been prescribed to her. She described her conversation with her grandson after learning her drugs were involved.
"I said to my grandson, did you give them my pills? He said they were high already and he wanted to help them. ... They didn't want to go home and have their parents see them," she says.
"I feel bad about it because I don't know how my grandson got to be involved. He never done anything like that before," she says. "I miss him."
Behan also misses her daughter. She acknowledges that Alex had a wild streak, with arrests for shoplifting and alcohol in her past. But she still wants to know what happened that night, and she wants answers from the boys.
"I wanna know how come they gave it to our girls and they didn't take it themselves? Why did they give it to them?" she says.
"We never heard anything from the boys or their families -- not an apology, no word, nothing. And I see them all over. But it's like nothing ever happened."