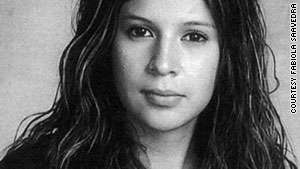 Brenda Sierra, 15, was found dead at the foot of a cul de sac, 50 miles from home.
STORY HIGHLIGHTS
Body of girl, 15, found in national forest 50 miles from home
Brenda Sierra died from a blow to the head, police say
Sierra's mother, brother witnessed a gang shooting
Know something? Call 323-890-5500. A $150,000 reward is offered
New York (CNN) -- Seven years ago, police asked Fabiola Saavedra to view photographs to identify a body they believed to be her 15-year-old sister, Brenda Sierra. She recognized a pair of hoop earrings and knew it was Brenda.
Saavedra had given her sister the earrings, studded with diamonds and sapphires, as a gift a few days earlier.
"Those earrings were on her ears in the photos cops showed me on that horrible Monday," Saavedra recalled, sobbing.
The remains were discovered that October weekend in 2002 in the San Bernardino National Forest, some 50 miles from their home in East Los Angeles, California.
Carrying a backpack, Sierra left her house at 7 a.m. October 18 to walk the five blocks to her best friend's house. Her friend's mother planned to take the two sophomores to school together. She never arrived at her friend's house. No one knew Brenda was missing for most of the day because a teacher who took attendance mistakenly marked her as present.
The first inkling something was amiss came that evening, when Saavedra learned her sister had missed a hair appointment after school.
"I knew when I found out she didn't show for her hair appointment, something was wrong," she said. She frantically called all of Brenda's friends and drove around the streets of East L.A., looking for her in restaurants, parks and laundromats.
Saavedra was 25 then, and already married with her own young children. But she lived just a few houses down the street from Brenda and their mother.
I knew when I found out she didn't show for her hair appointment, something was wrong.
--Fabiola Saavedra
The age difference between the sisters made Saavedra more of a mother to Brenda than a sister. "When I found out she was missing and I told police, they didn't take it very seriously," Saavedra added."I sometimes think that if they had acted sooner, we could have saved my sister."
Police initially viewed the case as a potential runaway situation, as they so often do in the first hours a teen goes missing. Capt. Henry Romero of the Los Angeles Sheriff's Office said investigators went to the Sierra home on a Saturday, the day after she was reported missing. An intensive search began on Sunday.
Police used dogs that picked up Brenda's scent along the five-block route to her friend's home. According to her sister, the dogs lost the scent along the way.
"What's sad is that her body had already been found on Saturday in San Bernardino," Saavedra said. But the Los Angeles County sheriff's office wasn't notified that a body had been found until Monday.
The remains, later identified as Brenda Sierra's, were found at the end of a small foot trail not far from a residential cul de sac in Crestline, California. It was about an hour's drive from where Brenda was likely abducted, police said. The area is mountainous and wooded with small pine trees. Brenda was face down and fully clothed. She'd suffered a blow to the head, which police say likely caused her death.
The case is being actively investigated by the Los Angeles County Sheriff's Cold Case Unit.
"We believe that Brenda was killed as retaliation by gang members in the neighborhood responsible for a shooting that Brenda's brother and mother witnessed a few weeks earlier," said Sgt Tom Harris, who heads the unit.
Gloria Molina, a Los Angeles County supervisor, had requested that the case be transferred from San Bernardino County, where the remains were found, to Los Angeles County.
Molina's office has been instrumental in having the $150,000 reward offer extended for an additional six months to a year.
Harris said police want to talk to a man named Jorge Barraza because, police say, he associated with the gang members arrested in the shooting Brenda's mother and brother witnessed.
Police have been unable to locate Barraza and believe he is in Mexico. He is not a suspect in the case. Anyone with information leading to the arrest and conviction of the people responsible for Brenda Sierra's death is asked to call the anonymous tip-line at 323-890-5500.