Attorney: Court hearing for Fort Hood suspect to be held in hospital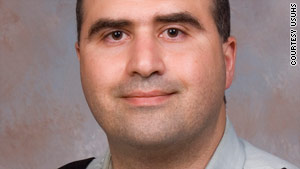 Suspect Maj. Nidal Malik Hasan, an Army psychiatrist, has a hearing Saturday about pretrial confinement.
STORY HIGHLIGHTS
NEW: Rep John Carter says witnesses say they first thought shootings were "paintball" drill
NEW: Saturday's hearing is to take place in Maj. Nidal Hasan's room in intensive care
Hasan's attorney says client basically already in pretrial confinement
Retired Army Col. John Galligan says he'll argue proceedings are being conducted hastily
Killeen, Texas (CNN) -- Prosecutors have requested a pretrial confinement hearing for accused Fort Hood shooter Maj. Nidal Malik Hasan in his hospital room on Saturday, Hasan's attorney said on Friday.
Hasan's civilian attorney, retired Army Col. John Galligan, said Hasan's commanders have already placed him in what is considered pretrial confinement. Saturday's hearing is to determine whether that is appropriate.
The Fort Hood Staff Judge Advocate Office confirmed late Friday that a pretrial review of Hasan's confinement was scheduled for Saturday at the Army base. No other details, including the exact time and location, were included.
Galligan said he will argue that the pretrial proceedings are being conducted hastily and without enough consideration of Hasan's medical condition. However, there is no decision pending on removing Hasan from the hospital, Galligan said, adding that no one has told him when Hasan will be discharged and where he might be taken when he is released.
Hasan, a U.S. Army psychiatrist, is accused of killing 13 people and injuring several others in the November 5 shooting at the Fort Hood Army Post near Killeen. He has not pleaded to the charges.
Saturday's hearing is to take place in Hasan's heavily guarded room in the intensive care unit at the Army hospital. Galligan said he would be in attendance, and he expected a government representative and a magistrate to be there as well.
Galligan said his client, who is paralyzed from the waist down, has had coherent conversations with him and understands who Galligan is and the next steps in the legal process. The attorney last met with Hasan on Thursday and said that after an hour, Hasan clearly was fatigued and couldn't continue.
Meanwhile, U.S. Rep. John Carter, whose congressional district includes Fort Hood, has met with victims and commanders at the post. He said victims are telling him that when the shooting started, many of them thought it was some kind of "paintball" drill.
Carter said that, according to the witnesses, Hasan had a laser-sight on a gun that he pointed at the shooting victims.
"Everybody is convinced he was targeting soldiers and not targeting civilians, because some of the civilians said he looked them in the eye, shook his head and passed over them," Carter said.
Asked about Carter's comments, Hasan's attorney said he was saddened by them and called them inflammatory, premature and prejudicial.
Galligan said he has received a military personnel file pertaining to Hasan, but said it has only basic details on where his client went to school and where he received additional training. He said he has not received any classified documents yet, and has not seen the e-mails that investigators said show Hasan corresponding with a radical Muslim cleric.
Galligan said the Army has not responded to his request that his own security clearance be reinstated.

Part of complete coverage on

A key congressional panel opened its probe into the Fort Hood shootings with a pledge to find out if authorities could have prevented the attack.

Military victims of the Fort Hood massacre could receive the Purple Heart if Congress passes a bill introduced by a Texas representative.

Maj. Nidal Hasan has been charged with 13 preliminary counts of premeditated murder stemming from the Fort Hood shootings, the Army said.

President Obama led a memorial service for the 13 people killed in the massacre at the largest military installation in the U.S.

The Fort Hood suspect urged in 2007 that Muslims in the Army be allowed to claim "conscientious objector" status, an official said.
Pvt. Joseph Foster was filling out routine paperwork when he heard a shout quickly followed by a burst of gunfire from just a few feet away.

Investigators believe the Fort Hood suspect acted alone, but U.S. intelligence agencies flagged his communications in 2008, the FBI said.

Members of Michael Cahill's family said they know had he not been killed, he would have been trying to save the lives of the wounded.


Most popular stories right now