 STORY HIGHLIGHTS
Prosecutor says Amanda Knox killed Meredith Kercher during sex game
Closing arguments heard as Italian trial draws to a close
Key evidence against Knox is kitchen knife prosecutors say was used to slit Kercher's throat

Defense: Case had flawed forensics, knife could not have made Kercher's wounds
Perugia, Italy (CNN) -- Accompanied by two smitten young men vying to impress her, a resentful Amanda Knox toyed with a knife and then plunged it into her roommate's neck, killing her, an Italian prosecutor charged in closing arguments Friday.
The November 2, 2007, death of British student Meredith Kercher occurred during a twisted sex game in which Knox taunted Kercher, and the two men -- boyfriend Rafael Sollecito and acquaintance Rudy Guede -- sexually assaulted her, prosecutor Guilano Mignini said during his seven-hour closing.
The prosecutor said Knox hated and resented Kercher and had decided the time had come to exact revenge.
Knox, 22, and Sollecito, 26, are on trial for sexual assault and murder. Police found Kercher's bloody body under a duvet on the floor of the apartment she shared with Knox. Both deny the charges.
Mignini said Kercher died about 11:30 p.m. after she and Knox had quarreled -- either over money or Guede's presence at the house.
The prosecutor said the men pinned Kercher down by her arms while Knox played with the knife, prodding at her throat and saying, "Ah, you were pretending to be such a little saint. ... Now we are going to show you."
Knox's lawyer, Carlos Della Vedova, later told reporters, "I believe that Mignini's presentation was very suggestive, but we are in a courtroom, and proof is needed in order to convict a person."

Timeline: The Amanda Knox case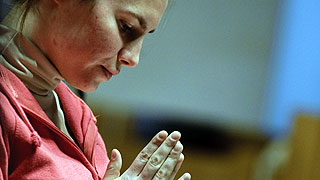 Video: Parents defend Amanda Knox

Video: Knox arrives to court

Video: Knox trial continues
Mignini defended his investigation, saying the criticism came from journalists, detectives, bloggers and lawyers from Italy and abroad who were seeking fame. He said police and prosecutors handled the case professionally, adding that it was time to bring the saga to a close.
Francesco Maresca, a lawyer for the Kercher family, said he was "very satisfied" with the prosecutor's argument, adding that the crimes should bring a life sentence.
Knox appeared drained as she sat in court Friday. Prosecution arguments focusing on the forensic aspects of the case will continue Saturday, and possibly into next week. Then it will be the defense's turn to make its points. The jury is due to get the case December 4.
After the court recessed, Knox's stepfather defended her against the prosecutor's strong accusations.
"She's an innocent girl looking at having to spend a lifetime in prison," Chris Mellas told reporters. "Of course she was upset. She had to sit there as he continued to say, 'Amanda this, Amanda that.' Yeah, it gets to you."
Police arrested Knox and Sollecito soon after Kercher's death, along with Guede, a native of the Ivory Coast who opted for a separate, fast-track trial and was convicted of murder and attempted sexual assault in October 2008.
The court sentenced Guede to 30 years in prison. He began an appeal of the verdict this week.
The key piece of evidence against Knox is a 6½-inch kitchen knife that prosecutors say was used to slit Kercher's throat.
The knife belonged to Sollecito and was found at his apartment with Knox's DNA on the handle and Kercher's DNA on the blade, according to a source close to the prosecution who did not want to be identified discussing an ongoing case.
Kercher had never been to Sollecito's apartment and wouldn't have come in contact with the knife, which shows it played a role in the murder, the source said.
Experts testifying for the defense, however, say there is no way the knife could be the murder weapon because it would not have made the wounds left on Kercher's body.
Anne Bremner, a lawyer and former prosecutor working with the group Friends of Amanda, told CNN that investigators improperly handled the knife, leading to questions about the validity of the DNA evidence.
Another defense expert, geneticist and private coroner Sarah Gino, testified that the DNA sample on the knife was too small to be definitive.
Prosecutor Mignini, however, argued that the knife was not contaminated by investigators. He said it was picked up by crime scene investigators wearing new gloves, placed in a new bag and sealed.
He challenged the defense to prove that the knife had been contaminated.
On the night Kercher was killed, Knox and Sollecito say, they were at his house watching a movie and smoking marijuana.
They admitted their recollection of events was hazy from the drugs, but both swore they went back to the house the next morning. Knox said she could not get in, so she called police.
Prosecutors also pointed to what they say is a confession by Knox, but she later said any apparent admission that she was at the scene was made when investigators told her to imagine what she might have seen had she been there.
The argument became moot when a higher court ruled the alleged confession could not be used because the statement was made without an attorney or translator present.
Kercher had been away from home for only two months when she was killed. The Leeds University student was studying European politics and Italian in Perugia.
Knox, who attended college in her home state of Washington, also was studying abroad.
CNN's Mallory Simon contributed to this report.