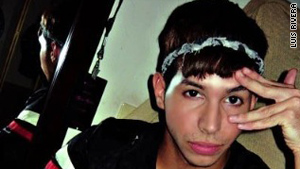 Police say the body of Jorge Steven Lopez Mercado, 19, was decapitated, dismembered and partially burned.
STORY HIGHLIGHTS
Body of Jorge Steven Lopez Mercado found decapitated, dismembered, burned last week
Suspect Juan A. Martinez Matos admitted to killing in TV interview, said he defended himself
Gay community asks authorities to investigate whether slaying was a hate crime
If charged as hate crime, case would be first tried under federal hate crime law signed last month
San Juan, Puerto Rico (CNN) -- Several hundred gay activists rallied Thursday afternoon in Puerto Rico to demand a robust prosecution in the brutal slaying of a gay teenager nearly a week ago.
Juan A. Martinez Matos was charged at a hearing Wednesday with first-degree murder and three weapons violations in connection with the killing of 19-year-old Jorge Steven Lopez Mercado. The teen's decapitated, dismembered and partially burned body was found Friday afternoon on a road in central Puerto Rico. Bail has been set at $4 million, court documents show.
The slaying has reverberated through the gay and lesbian community in Puerto Rico and the United States, where supporters started a Facebook page called "Justice for Jorge Steven Lopez -- End Hate Crimes." The group demands an investigation by Puerto Rico Gov. Luis Fortuno and prosecution of the case under the federal hate crime law.
Puerto Rico's gay community is asking authorities to investigate whether the slaying was a hate crime, said Pedro Julio Serrano of the National Gay and Lesbian Task Force.
Serrano, a protest leader, said homophobia can be found among political and law enforcement officials on the island. One politician, he said, recently referred to gays as "twisted and mentally ill."
"We hold accountable authorities for promoting hate rhetoric that provokes violence," Serrano said after the rally.
Another suspect, Martinez Matos, confessed to the slaying, prosecutor Yaritza Carrasquillo said in a statement.
In an interview with Telemundo, Martinez Matos also admitted to the killing.
"What happened happened because I defended myself. I cut him and beheaded him and I accept it as a man."
The broadcast also showed an encounter in a courthouse hallway between the handcuffed suspect and a man identified as Lopez Mercado's father. In the video, Martinez Matos asks the man for forgiveness.
"The one you have to ask for forgiveness is God," the man says. "That's who can forgive you. On my part, you were forgiven a while ago."
Puerto Rico does not have a hate crime provision in its criminal code, but allows prosecutors to ask that actions that could be interpreted as a hate crime be considered at sentencing.
The United States does have a federal law on hate crimes, and a bill signed by President Obama last month extended it to cover crimes involving sexual orientation. Puerto Rico is a U.S. territory, which means federal laws and agencies can have jurisdiction.
If the U.S. attorney's office, in consultation with local officials and other agencies, decides to prosecute the case as a federal hate crime, it is believed it would be the first such case under the latest addition to the law.
The FBI is monitoring the investigation being conducted by local authorities but has not been asked to help, Agent Harry Rodriguez said Thursday. There have been no discussions on whether federal officials will ask that the slaying be classified a hate crime, he said.
Puerto Rican prosecutor Jose Bermudez said he believes the slaying was a hate crime.
"This constitutes a hate crime because [Martinez Matos] is angry with people who have sexual relations with persons of the same sex, but he goes out and seeks the services of people of the same sex in order to get angry and kill them," Bermudez said in an interview with Telemundo.
A spokesman for Lopez Mercado's family told Telemundo they were unaware the teen was involved in any kind of prostitution.
In separate footage aired on Telemundo, a reporter asked Martinez Matos if he is gay.
"No," he replied. "[Lopez Mercado] tried to kill me."
Martinez Matos, 26, was arrested late Monday at his home in the Mogote de Cayey neighborhood, said Wilson Porrata Mariani, a spokesman for the Guayama police district.
Police impounded two cars and were investigating a home in another neighborhood, Huertas del Barrio Beatriz de Cidra.
Lopez Mercado's body was found on Puerto Rico Road 184 in another part of town, Barrio Guavate de Cayey, police said.
CNN's Arthur Brice and journalist Nuria Sebazco contributed to this report.