Feds indict 26 in alleged scheme to defraud FCC program for the deaf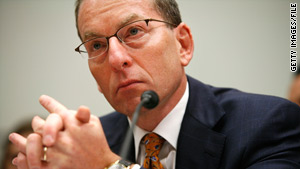 The FCC program's losses may have been in the tens of millions, Assistant Attorney General Lanny Breuer said.
STORY HIGHLIGHTS
Justice Department officials said they arrested suspects in nine states
Alleged scam targeted FCC program that helps the hearing-impaired
Justice official: Plan involved generating phony call minutes
Program is funded through long-distance bills paid by consumers
Washington (CNN) -- Federal authorities on Thursday indicted 26 suspects in nine states in a wide-ranging scheme to defraud a program intended to help the deaf.
Officials said they arrested conspirators in New York, New Jersey, Florida, Texas, Pennsylvania, Arizona, Nevada, Oregon and Maryland.
"The individuals charged in connection with today's operation are alleged to have stolen tens of millions of dollars from an important government program that is intended to help deaf and hard-of-hearing Americans communicate with hearing persons," said Lanny Breuer, assistant attorney general for the Justice Department's Criminal Division.
Breuer told reporters the defendants allegedly generated fraudulent call minutes by making it appear that deaf Americans were engaging in legitimate calls with hearing persons. "In reality, the defendants were simply attempting to steal money from an FCC program that is funded by every single American who pays their telephone bills," he said.
The Federal Communications Commission began the investigation and called in the FBI and Postal Inspection Service to help.
Joseph Persichini Jr. assistant director of the FBI's Washington field office, called it a "unique" investigation that required 20 sign-language interpreters working with federal agents.
"Unfortunately, this remarkable service designed to help those in need also provided a growth opportunity for criminal activity that we believe has cost American consumers tens of millions of dollars," he said.
An FCC official said the total billing last year for calls both legitimate and fraudulent was $55 million. Some unknown portion of that -- believed to be "tens of millions" -- will prove to be fraudulent, according to officials who briefed reporters.
Officials said the 26 indicted individuals falsely billed the government at a rate of $390 per hour for using what is known as a Video Relay Service system. The seven contractors represent about 15 percent of the business for the system.
The indictments say owners and employees of seven companies were engaged in the scheme. The firms are located in Rockville, Maryland; Las Vegas, Nevada; Phoenix, Arizona; Austin, Texas; Miami Lakes, Florida; and Huntington Beach, California; and one firm operated in both New York and New Jersey.
In addition to seeking forfeiture from those indicted for the allegedly phony billing, Breuer vowed prosecutors will seek unspecified jail time.