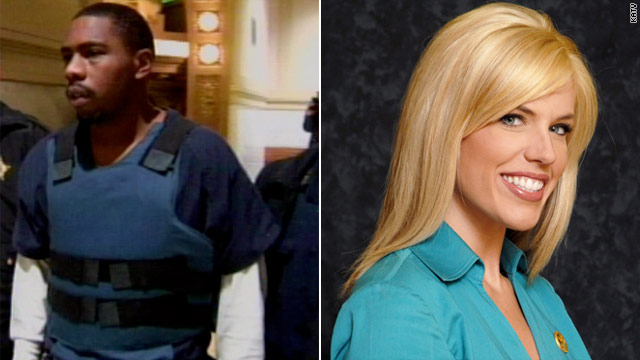 STORY HIGHLIGHTS
Anne Pressly found beaten, unconscious in her home in October 2008, later dies
On Wednesday, jury deliberates slightly more than two hours in murder trial
Curtis Lavelle Vance convicted of of murder, robbery, rape, theft, could face death penalty
(CNN) -- After deliberating slightly more than two hours, a jury Wednesday found a man guilty of capital murder and other charges in the October 2008 death of Arkansas television anchor Anne Pressly, according to CNN affiliate KARK-TV.
Curtis Lavelle Vance, 29, was convicted of capital murder, residential burglary, rape and theft of property, the station reported. A sentencing phase will determine whether he receives life in prison or the death penalty.
Pressly, 26, the morning news anchor for Little Rock, Arkansas, television station and CNN affiliate KATV, was found badly beaten and unconscious in her home. She died five days later.
"Today was justice for Anne," David Bazzel, a friend of Pressly, told KARK. "And it's taken a year to get to it, and I know nobody's more grateful than the parents and all of us as friends."
He said the hardest part of the trial was having to listen to an account of the last moments of Pressly's life.
"The whole thing was surreal for me," he said. "This was not 'CSI.' This was not a movie. This was our friend that had to go through horrible last minutes of her life, and it's just hard to hear that and to think that anybody could do this to anybody."

Video: TV anchor murder verdict
It's just hard ... to think that anybody could do this to anybody.
--David Bazzel, a friend of Pressly
He said of Vance, "What he did to her, the death penalty is not enough for him."
Vance had pleaded not guilty to charges in Pressly's death. He was linked to the killing through DNA, however, and police said at the time of his arrest last year they were "110 percent" sure he was guilty.
Vance had given several statements to police, including one saying he was at Pressly's home and another admitting to her murder. Defense attorney Steve Morley told CNN affiliate WREG as Vance's trial began earlier this month that such evidence presented an obstacle for the defense, but said he hoped jurors could be persuaded to spare his client's life.
KARK reported that jurors heard recordings in which Vance apparently confessed to beating Pressly with a piece of wood.
Pressly's mother, Patti Cannady, told NBC last year her daughter fought hard for her life, breaking her left hand in the process.
"I found my daughter beyond recognition, with every bone in her face broken, her nose broken, her jaw pulverized so badly that the bone had come out of it," Cannady said. "I actually thought that her throat had possibly been cut. Her entire skull had numerous fractures from which she suffered a massive stroke."
Prosecutors and the defense rested their cases Tuesday after jurors heard testimony from a medical examiner describing the beating that led to Pressly's death, KARK said.
Vance showed little reaction as the verdict was read, but Pressly's mother and relatives sobbed and embraced, KARK reporter Pete Thompson said.
DNA evidence has also tied Vance to a rape in April 2008 in Marianna, Arkansas, about 90 miles east of Little Rock, police said in December.
Lt. Terry Hastings, spokesman for Little Rock police, has said investigators found no link between Pressly and Vance, and they do not believe Pressly's being on TV had anything to do with the killing.
"I think he saw her someplace, probably followed her home with intention of robbing her. And then went from there," he said.
The killer also took Pressly's purse, Hastings said.