Accused U.S. spies for Cuba in court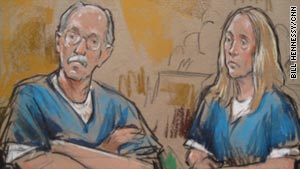 Former U.S. State Department analyst Kendall Myers and his wife, Gwendolyn, are accused of spying for Cuba.
STORY HIGHLIGHTS
Kendall and Gwendolyn Myers were recruited by Cuba in 1978, prosecutors say
Kendall Myers worked for the CIA and State Department, retired in 2007
Couple pleaded not guilty to five-count indictment; insist they be tried together before jury
Washington (CNN) -- A former State Department analyst and his wife have a court date Thursday as a federal judge reviews their possible trial on charges of spying for Cuba.
Prosecutors say Kendall Myers, 72, and his wife, Gwendolyn, 71, were recruited by Cuba as potential spies in 1978. They are charged with conspiracy to act as illegal agents of the Cuban government, wire fraud and providing classified information to Havana, according to court documents.
In the years that followed, Kendall Myers landed jobs with the CIA and the State Department, where he had "top secret" security clearance. He retired in 2007.
Prosecutors say the case against them includes allegations of low-tech intrigue such as Morse code messages on shortwave radio from Cuba and swapping shopping carts with a Cuban handler at a grocery store near their home in Washington.
U.S. District Judge Reggie Walton must decide how to protect sensitive U.S. intelligence while ensuring evidence is available for the couple to receive a fair trial.
Thursday's hearing is a review of preparations by prosecutors and the couple's defense team.
The couple pleaded not guilty in June to a five-count indictment. They insisted they be tried together before a jury.