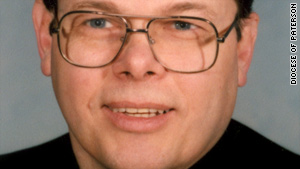 911 tapes reveal that Rev. Ed Hinds attempted to summon help but was thwarted by his alleged attacker.
STORY HIGHLIGHTS
911 operator received call from cell phone that was disconnected
Police say when operator redialed number, alleged assailant answered
Police say Rev. Ed Hinds of Chatham, New Jersey, was attempting to seek help
Church janitor charged in slaying of Hinds, who was stabbed 32 times on October 22
(CNN) -- A priest who died in his New Jersey rectory from dozens of stab wounds was recorded briefly on a call for help moments before his death, according to a 911 recording.
And that call for help was thwarted by another man -- the priest's assailant, police told CNN affiliate WABC.
The soft voice heard in the background during a call with a 911 operator is the priest, the Rev. Ed Hinds, police say, and he was calling for help as a stronger male voice claimed there was no emergency, WABC said.
The station obtained a recording of the 911 call, which came from an emergency operator who redialed an incoming call that had been disconnected. The number later was determined to be that of Hinds' cell phone.
"Hello," says a man answering the 911 dispatcher's call, according to the recording on WABC's Web site.
"Sir, this is the state police. You called 911 -- do you have an emergency?" the dispatcher asks.
"No, we don't, thank you," the man responds.
But in the background another male voice quietly contradicts the first man's reply: "Yes, we do."
"No?" asks the dispatcher.
"No, thank you," the first man says.
"All right," the dispatcher says.
The call ends there.
Police told WABC that the voice in the background was that of the Roman Catholic priest before he was stabbed 32 times on October 22.
A janitor at Hinds' church in Chatham, New Jersey, has been charged with killing the priest, and police say the janitor's voice is that of the first man on the call.
In the initial 911 call from Hinds' cell phone, Hinds is heard giving the address of the church and saying "Help," according to WABC.
"911, where's your emergency," an operator asks.
"85 Washington Avenue."
"Washington Avenue?" the operator asks.
Hinds asks for help and the operator says, "Hello, hello."
That call was disconnected, WABC said.
The 911 dispatcher couldn't send police because the calls were made from a cell phone and could not be traced, Morris County, New Jersey, prosecutor Robert Bianchi said before the recordings were released.
The suspect, Jose Feliciano, is charged with murder in the slaying, Bianchi said. Feliciano, who worked at the church for 17 years, got into an argument with the priest before he allegedly killed him, Bianchi said.
According to an arrest affidavit filed after the priest's body was found on October 23, Feliciano waived his Miranda rights and "confessed to the murder of Father Hinds."