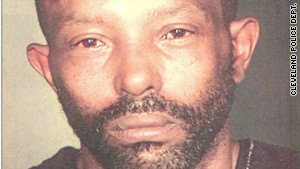 Cleveland police arrested Anthony Sowell on Saturday, two days after the grisly discovery.
STORY HIGHLIGHTS
Six women's bodies were found at Cleveland man's home last week
Authorities are trying to trace residential history in case of more victims
Bodies could have been there for years, coroner says
The latest on the investigation on tonight's "Nancy Grace" at 8 p.m. ET on HLN
(CNN) -- Police in Cleveland, Ohio, are seeking a warrant for a DNA sample from a convicted sex offender to help further an investigation into the recent discovery of six dead women at his home.
Local authorities also are attempting to trace 50-year-old Anthony Sowell's residential history since his June 2005 prison release to learn whether there are additional victims, according to Lt. Thomas Stacho of the Cleveland Police Department.
Police arrested Sowell on Saturday, two days after discovering the decomposing bodies of five females inside his home. Another female body was discovered outside the house.
Authorities found the first two bodies while trying to serve an arrest and search warrant on Sowell related to a sexual assault investigation. Sowell was not home at the time; officers found him after a tipster told them of his whereabouts.
The decomposing bodies of the women, all of whom were African-American, could have been lying where they were found for "weeks, if not months or years," a coroner said Saturday.
All six deaths have been ruled homicides, Stacho said Monday, with five of the deaths occurring as a result of strangulation.
About a month ago, a woman accused Sowell of rape and felonious assault, Stacho noted last week.
"Once we were able to get the cooperation of the victim, we secured an arrest warrant for Mr. Sowell and subsequently a search warrant for his premises," Stacho said.

Video: Tip led to suspect's arrest
Officers serving the warrants Thursday discovered the badly decomposed remains of two bodies on the third floor of the house, he added. A subsequent search revealed what appeared to be a freshly dug grave under the stairs in the basement. On Friday, investigators returned to the house, dug up the grave and found a third body, Stacho said.
A further search of the house and property found two more bodies in a crawlspace and a sixth body in a shallow grave outside the home.
Five different burial methods were used on the victims, and the bodies were in varying states of decomposition, Cuyahoga County Coroner Frank Miller III said, making it difficult to determine the ages of the victims. He added that the states of the bodies made it hard to tell how long they had lain in the makeshift graves.
"It's really very difficult to tell," Miller said. "It's been some time. I would say probably at least weeks, if not months or years."
Stacho said Sowell makes his living as a "scrapper."
"He walks around and picks up scrap metal and takes it to junk yards to make a few pennies," he said.
Sowell was convicted of attempted rape in a1989 case and was imprisoned from 1990 to 2005, Stacho said.
CNN's John Branch and Barbara Hall contributed to this report.