Chapel housing 9/11 victims set on fire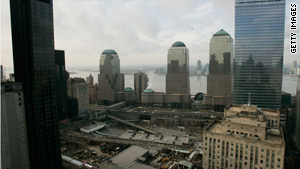 Upon its completion, the World Trade Center memorial will house the remains of victims of the September 11 attacks.
STORY HIGHLIGHTS
Police: Fire deliberately set at chapel housing September 11 victims' remains

Brian Schroeder faces charges of arson, criminal mischief

Benches, mementos were burned, but remains were not damaged, police say

New York (CNN) -- A man faces charges of arson after he allegedly set fire to a section of Memorial Park, which houses the remains of victims of September 11, 2001, attacks, police said Saturday.
Brian Schroeder, 26, who was arrested Saturday, faces charges of criminal mischief, police said.
Police responded to the fire in the Memorial Park chapel about 9 a.m. ET Saturday.
Benches and mementos left by family members in the chapel were damaged, police said, but the remains were untouched.
Memorial Park, a large white tent in east midtown Manhattan, is the temporary resting place for unclaimed and unidentified remains, according to the chief medical examiner's office.
The remains will be relocated to the World Trade Center Memorial after its completion, according to the office.
CNN's Miguel Susana contributed to this report.