Sex offender roundup nets 106 fugitives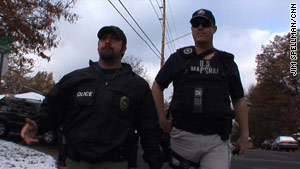 Parole Officer Dean Warren, left, and Deputy U.S. Marshal Erick Helsing go after sex offenders.
STORY HIGHLIGHTS
U.S. marshals, other law personnel fan out to nab sex offenders
Failure to register as a sex offender is common charge
Officers coordinate activities with authorities in other states
"I believe that the community is safer," marshal says
Denver, Colorado (CNN) -- Operation Shepard, a four-day sweep for fugitive sex offenders in Colorado, has led to 106 arrests, according to the US Marshals Service.
Charges against those arrested ranged from failure to register as a sex offender to sex assaults against children, incest and child prostitution. U.S. marshals, who teamed up with other state, local and federal law enforcement agencies, led the operation. Ten-person teams hit the streets.
The authorities knock on doors, chase down leads and use government databases to track their quarry. According to the Marshals Service, most of those on the wanted list have been convicted of a sex offense and have been released on parole but have failed to register as sex offenders or have failed to meet some other conditions of their parole.
Leading one group was Deputy U.S. Marshal Erick Helsing. He stands 6 foot 9 inches and weighs nearly 300 pounds. He is soft-spoken in person but carries a pistol on his hip and a shotgun on his back. He's not a guy you want knocking on your door if you are a wanted man.
"Every contact with an offender is a potentially dangerous situation," Helsing says as he dons his Kevlar vest. "The key is to arrest them safely and go home safely."
But first the marshals have to find the offenders. Sometimes it's easy.
Dean Warren, a Colorado Department of Corrections parole officer working on the same team as Helsing, runs the prison records of one of the offenders on their list. The man was convicted in 1990 of a sex offense. One of the people who visited the offender in prison was an ex-wife. The officers approach her house from the front while others cover the alley in the rear. The ex-wife answers the door and within minutes the offender is being led out in handcuffs.
"He's been on the run since 2006, so it's a good snag. Three-and-a-half years he's been on the run," says Warren, adding that the chilly Denver morning can make the search a bit easier. "Cold weather keeps them home. Just like hunting," he says.
Sometimes it's not so easy.
The team spends most of the rest of the day tracking two other sex offenders. They try old girlfriends' houses, speak to neighbors at old addresses and the mother of one of the offender's children.
They interview former employers and check with old landlords. They get nowhere, but they say they'll keep at it until the wanted offenders are in custody.
In cases like this, the offenders are released from jail on parole and seem to just vanish. The hunt often leads investigators out of state. They forward their information to law enforcement agencies across the country, and sometimes they hit paydirt.
"We have located and arrested fugitives as far as Washington state," says Robert Rodriquez, sex offender investigations coordinator for the U.S. Marshals Service. "Additional leads have been sent to other parts of the country."
If the search is frustrating, Helsing doesn't let it show. "I believe that the community is safer," he says. "That's all that matters."
A list of the top 100 wanted sex offenders in Colorado can be found here.