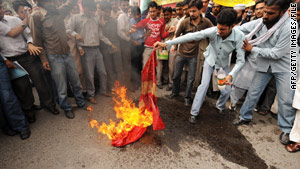 Demonstrators angry at cartoons in a Danish newspaper burn the Danish flag in Pakistan last year.
STORY HIGHLIGHTS
Tahawwur Hussain Rana is one of two men arrested in alleged plot against Danish newspaper
Rana's attorneys say he was duped by the other man and should be granted bail
Cartoonist angered Muslims with newspaper cartoons in 2005 showing Mohammed
FBI says Rana, others, were part of plot to kill the cartoonist and his editor
Chicago, Illinois (CNN) -- A man arrested on charges of helping the plotter of a terrorist attack did not know about the plan and will not flee if he is granted bail, his defense team argued Wednesday.
Tahawwur Hussain Rana, 48, is one of two men whose arrests were announced Tuesday. His lawyers argued in court that he was "duped" by the other man, David Headley, 49.
Government prosecutors said Rana is a flight risk because he would face a long prison term if convicted, has tried to mislead government officials in the past, and is a Canadian citizen. The defense responded that Rana's wife and children are in Chicago and his family is willing to put up their life savings as bond.
There is no evidence Rana knew about an alleged plot to attack the offices or staff of a Danish newspaper that published controversial cartoons of the Prophet Mohammed, the defense argued.
U.S. Magistrate Judge Nan Nolan did not rule Wednesday on whether to grant Rana bail, saying the court would give more guidance on November 3 after reviewing arguments.
The Justice Department on Tuesday revealed what it said was a terrorist plot stretching from Chicago to Copenhagen, Denmark, to the tribal areas of Pakistan.
Headley referred to the plan as "the Mickey Mouse project" in coded communications with other conspirators, the FBI said in court papers.
He told the FBI that he traveled twice this year to Denmark to scope out the newspaper's offices and a nearby army post to prepare for an attack by two other people, the court papers say.
Another alleged conspirator -- identified in FBI papers as Lashkar-e-Taiba Member A, an influential figure in the violent extremist group -- told him to conduct surveillance of a synagogue as well, under the mistaken impression that the cultural editor of the Danish newspaper is Jewish.
Headley suggested killing the editor, Flemming Rose, and cartoonist Kurt Westergaard -- who depicted Mohammed wearing a turban shaped like a bomb -- rather than attacking the offices of the paper itself, the complaint against Headley says.
Headley also was in contact with Ilyas Kashmiri, a high-ranking operative in a militant group associated with al Qaeda, court papers allege. Kashmiri is a member of Harakat-ul-Jihad-Islami, which the U.S. government said in 2006 was a "terrorist group deemed to be of relevance to the global war on terrorism."
Headley allegedly traveled to Pakistan's Federally Administered Tribal Area to meet Kashmiri and another alleged conspirator, identified as Individual A, after the first trip to Denmark.
Headley was on his way again to Pakistan, possibly to meet Kashmiri, when he was arrested, the government said.
Headley was arrested October 3 by federal agents at Chicago's O'Hare International Airport and Rana was arrested at his home on October 18, the department said. The arrests were kept secret until Tuesday "so as not to compromise further investigative activity," it added.
A court appearance for Headley is scheduled for December 4. "Because of the seriousness of the allegations, we won't have any comment at this time," his lawyer, John Theis, told CNN.
If convicted, Headley would face a maximum sentence of life in prison for conspiracy to murder or maim persons abroad.
Rana helped arrange Headley's travel and hide the reason for it, and discussed potential targets for attack, the federal complaint charges.
The government Wednesday added a second count of providing material support to terrorism to the charges against Rana. He was earlier charged with conspiracy to do so, which carries a penalty of up to 15 years in prison. Headley also faces that charge and possible sentence.
Headley is a U.S. citizen who changed his name from Daood Gilani in 2006, while Rana is a Canadian citizen originally from Pakistan who lives primarily in Chicago, according to the Justice Department.
The arrests of Headley and Rana are not related to a string of arrests of suspected terrorists across the United States in recent weeks, according to a Department of Justice news release.
The Danish newspaper, Jyllands-Posten, sparked fury among Muslims worldwide -- and some deadly protests -- in 2005 and 2006 by publishing a dozen caricatures of Mohammed, the founder of Islam, in September 2005.
Many Muslims considered some of the images particularly offensive, including one that showed Mohammed wearing a turban shaped like a bomb with a lit fuse.
Danish authorities arrested a number of people last December who allegedly were planning an attack on Westergaard, the cartoonist.
CNN's Katherine Wojtecki in Chicago and Carol Cratty in Washington contributed to this report.