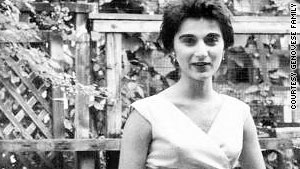 "Genovese syndrome" was coined after dozens watched or heard a killer attack Kitty Genovese and did nothing.
STORY HIGHLIGHTS
Psychologists say bystanders in large groups are less likely to take action

Police: As many as 20 people watched gang rape spanning over two hours

Bystanders didn't report assault to police and some participated in the attack

Some experts argue the witnesses may have feared retaliation from the gang
(CNN) -- For more than two hours on a dark Saturday night, as many as 20 people watched or took part as a 15-year-old California girl was allegedly gang raped and beaten outside a high school homecoming dance, authorities said.
As hundreds of students gathered in the school gym, outside in a dimly lit alley where the victim was allegedly raped, police say witnesses took photos. Others laughed.
"As people announced over time that this was going on, more people came to see, and some actually participated," Lt. Mark Gagan of the Richmond Police Department told CNN.
The witnesses failed to report the crime to law enforcement, Gagan said. The victim remained hospitalized in stable condition. Police arrested five suspects and more arrests were expected.
So why didn't anyone come forward?
Criminology and psychology experts say there could be a variety of reasons why the crime wasn't reported. Several pointed to a problematic social phenomenon known as the bystander effect. It's a theory that has played out in lynchings, college riots and white-collar crimes.
Under the bystander effect, experts say that the larger the number of people involved in a situation, the less will get done.

Video: Girl gang-raped for hours

Video: Gang rape outside school dance

Video: Can witnesses be prosecuted?
"If you are in a crowd and you look and see that everyone is doing nothing, then doing nothing becomes the norm." explains Drew Carberry, a director at the National Council on Crime Prevention.
Carberry said witnesses can be less likely to report a crime because they reinforce each other with the notion that reporting the crime isn't necessary. Or, he says, witnesses may think another person in the crowd already reported the incident. The responsibility among the group becomes diffused.
"Kids learn at a young age when they observe bullying that they would rather not get involved because there is a power structure," Carberry adds.
The phrase bystander effect was coined in the 1960s after people watched or heard a serial killer stalk and stab a woman in two separate attacks in the Queens neighborhood of New York.
Kitty Genovese struggled with the attacker on the street and in her building. She shrieked for help and was raped, robbed and murdered. When witnesses in the building were questioned by police about why they remained silent and failed to act, one man, according to the 1964 New York Times article that broke the story, answered, "I didn't want to be involved."
Though the number of people who saw or heard Genovese struggle was eventually disputed, her case still became symbolic of a kind of crowd apathy that psychologists and social scientists call the "Genovese syndrome."
"I don't propose people get involved by running over and trying to stop it," the 73-year-old brother of Kitty Genovese told CNN, referring to the California gang rape case. Instead, Vincent Genovese advocates a call to 911. "Everyone has a cell phone," he said. "There is no excuse for people not to react to a situation like that."
A similar incident took place at a New Bedford, Massachusetts, bar in 1983. Witnesses said several men threw a woman on a pool table where they raped and performed oral sex on her. Several witnesses failed to call police.
"The people in the bar didn't do anything. They just let it happen," said Richard Felson, a professor of crime, law and justice at Penn State University in University Park, Pennsylvania.
This detached mentality can be especially pervasive among youth, who are too young to comprehend what victimization means, said Salvatore Didato, an organizational psychologist in New York. When a teenager -- or anyone -- doesn't have a personal bond to the victim, they are less likely to help out.
Experts say sometimes bystanders see the victim as less important than the person committing the crime, who appears to wield power. "The victim to them is a non-person," Didato said.
But in California, it's illegal for a witnessed crime involving children to go unreported. The Sherrice Iverson Child Victim Protection Act passed in 1999 makes it a misdemeanor to fail to report a crime against a child. However, the bill only applies to victims 14 or younger. The victim in the California gang-rape case was 15.
Phil Harris, a criminal justice professor at Temple University, who has studied juveniles and group situations for nearly three decades, offered another hypothesis on why as many as 20 witnesses failed to notify police. He said the witnesses could have been angry themselves -- or had a problem with the victim.
Richmond Police Department officials said some of the witnesses in the California gang rape ended up participating in the sexual assaults.
"A lot of kids don't know how to express anger and they are curious when anger is expressed," Harris said.
Scientific studies over the last decade have shown that adolescent brain development occurs into the 20s, which makes it hard for teens to make decisions, criminologists say. In 2005, the U.S. Supreme Court took this research into consideration when it ruled that children could not be given the death penalty.
It is still unclear the ages of the male witnesses who gathered around the victim in California and watched.
In Boston, Massachusetts, Northeastern University criminologist Jack McDevitt says he believes the California gang rape was too violent -- and lasted too long -- to be the result of the bystander effect alone.
McDevitt, who specializes in hate crime research, says the male witnesses may have kept quiet out of fear of retaliation. In his research, witnesses who live in violent communities often fear stepping forward because snitching isn't tolerated.
Snitching could also bring dangerous consequences to their friends and family. "They don't believe the system will protect them from the offender," he said. "They think the offender will find out their name."
That may have been the case in Chicago, Illinois, in September when an honor student was beaten to death by four teenage boys outside a school. Video captured by a bystander showed several students watching the attack, but police have found many of the witnesses tight-lipped in the South side community where violence has been prevalent. Police have charged three suspects with murder.
While information from the Richmond Police Department in the coming weeks may reveal more about the bystanders and attackers, crime experts say one thing is clear: Third parties can affect the outcome of a crime. Witnesses have the power to deter violence -- or stop a crime from going on, experts say.
Bystanders could have prevented the gang rape from lasting more than two hours, if they had reported the crime to authorities sooner.
The victim was found under a bench, semi-conscious.
"This just gets worse and worse the more you dig into it," Lt. Mark Gagan of the Richmond Police Department. "It was like a horror movie. I can't believe not one person felt compelled to help her."
Nick Valencia contributed to this report.