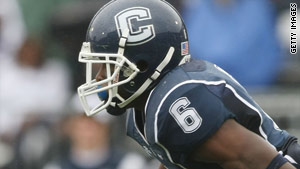 Jasper Howard, 20, was a cornerback for the University of Connecticut Huskies.
STORY HIGHLIGHTS
21-year-old charged with murder, conspiracy to commit assault
Two other men also facing charges
Connecticut football player was stabbed to death this month
(CNN) -- A 21-year-old man was charged with murder Tuesday in connection with the stabbing death of a University of Connecticut football player this month, police said.
John Lomax III also faces a charge of conspiracy to commit assault, Maj. Ron Blicher of the UConn Police Department said at a news conference Tuesday.
Lomax was in jail, with bail set at $2 million.
Two others were arrested in connection with the October 18 slaying of UConn cornerback Jasper Howard, 20.
Howard was stabbed in the abdomen in a fight after a student dance on the school's campus in Storrs, authorities said. He died at a hospital in Hartford.
Hakim Muhammad, 20, faces a felony charge of conspiracy to commit assault, Blicher said. Muhammad remained in jail, with bail set at $750,000.
The third person arrested was Jamal Todd, 21, police said. Todd was charged with a felony count of falsely reporting an incident and a misdemeanor count of reckless endangerment. He was released on a $5,000 bond, police said.

Video: UConn stabbing arrests

Video: 'Jas is our brother'
Todd pulled a fire alarm that preceded the fight, Blicher said.
More than 300 people at the dance left the building and spilled out into the street. A fight broke out between two groups, and Howard and another person were stabbed, police said after the incident.
The second victim, who was treated and released, was Brian Parker, 19, another player on the UConn football squad, according to CNN affiliate WTNH.
Lomax and Muhammad are slated for a Wednesday court appearance, police said. Todd is to be arraigned November 10.
Blicher said that more than 40 investigators from the UConn Police Department and Connecticut State Police conducted more than 200 interviews in the course of the investigation.
Police did not take questions from reporters after the announcements. Affidavits that hold details about the arrest warrants for the three men have been sealed, Blicher said.
UConn President Michael Hogan sent a message to the university community, praising the police department's work.
"Our UConn Police Department has done an outstanding job -- both investigating the case and ensuring the ongoing safety of our community throughout this difficult time," Hogan wrote, also praising the state police.
"We continue to mourn the loss of our Jasper. Nothing can replace the void in our hearts left by his death," Hogan wrote. "Yet, I know that many of you will feel reassured by today's news."
The university is setting up the Jasper T. Howard Scholarship Fund in honor of the slain student athlete.