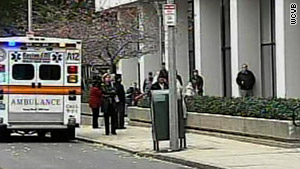 An ambulance is parked outside the building where the stabbing and shooting took place Tuesday.
STORY HIGHLIGHTS
Police: Psychiatric patient stabbed his doctor at Boston medical facility

An off-duty security guard ordered patient to drop knife, police say

When patient didn't comply, guard shot him, police say

Guard's actions "certainly heroic," hospital security chief says
(CNN) -- An off-duty security guard Tuesday fatally shot a psychiatric patient who had stabbed a doctor at a medical building in Boston, Massachusetts, police said.
The incident unfolded around 2 p.m. in a building leased by Massachusetts General Hospital, Boston Police Commissioner Ed Davis told reporters.
"Officers ... determined that a psychiatric patient at a Massachusetts General Hospital facility, while being seen by a physician, attacked and stabbed her," he said.
The security guard interceded, revealing a weapon and ordering the patient to drop a knife, Davis said.
"When the suspect did not comply, he shot the suspect," Davis said.
The suspect and his doctor were taken to a hospital, where the suspect was pronounced dead; the physician was in stable condition, Davis said.
A police spokesman identified the slain suspect as Jay Carciero, 37, of Reading, Massachusetts. The hospital identified the victim as Dr. Astrid Desrosiers and said she had been "seriously injured."
The security guard "just happened to be in the building at the time," said Bonnie Michelman, head of security for the hospital, who described his actions as "certainly heroic."
"We're happy he was here," she said about the guard, who was taken to Boston police headquarters for questioning.
A former neighbor of Carciero, Nancy Gill of Tewksbury, Massachusetts, said the account did not sound like the man she knew.
"Jay was very normal," said Gill, who lived across the street from the Carciero family until four years ago, when the Carcieros moved to Reading. "I thought he was the most together dad and person I had known."
When her car was not working, Carciero offered her his van; when she underwent chemotherapy for breast cancer, he would send her get-well cards; when she was not home, he would check on her husband, Jack, who is disabled, Gill said.
Carciero and his wife, Kim, had three elementary-school children and a bull mastiff, she said.
"They took care of each other, they took care of their kids, they took care of their dog," she said.