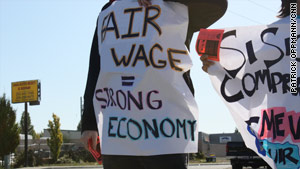 Workers protest outside a business that they say has not paid wages owed to employees.
STORY HIGHLIGHTS
Some employers slow in paying illegal immigrants, activists say
One employee was fired after complaining about lack of pay
Group works to see that employees are paid what they are owed
Some immigrants protest outside businesses that don't pay up
Kent, Washington (CNN) -- Ramon Hernandez had a problem.
The bakery he had worked at for more than two years was behind on his salary. Way behind. Sometimes, Hernandez said, the bakery would promise to pay him as soon as business got better. Other times it would give the elderly cleaning man a meal or two instead of his salary.
"When I asked them about the money they owed me, they always had some excuse about why they couldn't pay me," Hernandez said in Spanish. " 'We'll pay you later,' they said."
When the back pay his employer owed him became thousands of dollars, Hernandez complained again. That's when, Hernandez said, the bakery fired him.
Hernandez's problem was further complicated by the fact that he is an illegal immigrant. He came to the United States to earn money to send to his family back in Mexico. Illegal immigrants working in low-paying jobs are increasingly targeted by employers, experts say, who find it easier not to pay their salaries.
And even though undocumented workers receive the same protection as U.S. citizens when it comes to claiming unpaid wages, many are hesitant to go to the authorities.

Video: Illegal immigrants chase wages
"We are seeing an uptick," said Melvina Ford, the executive director of the DC Employment Justice Center, which provides legal advice and assistance to low-income workers. "If I am an employer looking not to pay employees, I am going to choose the employee least likely to make a claim against me."
Ford said the organization hired a new staffer specifically to handle the increase the center is seeing in claims brought by immigrants.
In 2008, the Department of Labor collected more than $57 million in unpaid back pay from employers in low-wage industries, an increase of $5 million from the previous year.
Arielle Rosenberg works for the Seattle, Washington, non-profit organization CASA Latina, which helps both legal and undocumented workers with employment disputes. She said immigrants are being targeted by some employers.
"We see it in restaurants, for people washing dishes or working as waiters, we see it in a lot of yard work," Rosenberg said. "And we are actually seeing it with a lot of people working in people's homes as domestic workers."
Rosenberg said the organization tracks down the employers, calls them on behalf of the workers and will even find lawyers to take the employers to court. Still, even that sometimes doesn't force employers to pay the back wages the owe.
"What we see is bosses -- some of them are judgment-proof, some of them are hiding their assets in a bunch of different places," Rosenberg said. "So what we get are default judgments, actual paper that says the immigrants are owed money. But the attorneys aren't able to actually collect the money [the immigrants] are owed."
To force the employers who owe workers money to pay up, CASA Latina has taken the novel step of staging protests in front of their businesses. Among the demonstrators are the workers, some of whom are illegal immigrants.
So far in 2009, the group has recovered $70,000, Rosenberg said, $20,000 more than what CASA Latina recovered for the entire previous year. Many employers pay up quickly, she said, some because they are embarrassed that they have been accused of not paying employees, and others don't want it known that they hire illegal immigrants.
When the group organized a protest of about 15 immigrant workers and supporters for Ramon Hernandez, the bakery worker, his employer was calling within an hour to make a deal. When contacted by CNN, the owner admitted to paying Hernandez the back wages but denied doing anything wrong, saying his workers were "well treated."
Hernandez will receive more than $20,000 in back pay. But it's a small consolation, he said, for having to fight to receive his pay and nearly becoming homeless in the process.
"If we do the numbers, I am getting paid $10,000 a year," Hernandez said. "That's not a very good salary."