STORY HIGHLIGHTS
Jewel Mitchell waited by her fiancé and helped the Innocence Project with his appeal

DNA tests of saliva samples revealed Dean Cage didn't commit the crime

Illinois exonerated Dean in May 2008 and compensated him with $170,000

Dean and Jewel live in Chicago with their eldest daughter and grandaughter
Chicago, Illinois (CNN) -- Was Jewel Mitchell crazy?
Her fiancé was in prison for a crime he said he didn't commit. She'd stood by him ever since his arrest just a month after he'd asked her to marry him. But now, seven years later, Dean Cage was telling her to give up.
It was August 2001, and in the prickly heat inside a prison visitation room four hours from Chicago, Dean said the two words she'd hoped to never hear:
Move on.
If there was anything left he could do for Jewel, Dean figured it was to set her free. From a situation that left her a single parent, juggling several jobs to make ends meet. From the suspicions of others who thought Dean must have done something or he'd be out of prison by now. From three-hour drives to visit him, and all the loneliness in between.
Family members had been telling her the same thing.
He may never get out.
Your daughters need a man in the house.
You're not getting any younger.
Dean had been found guilty of sexually assaulting a 15-year-old girl. The victim's testimony had convinced a judge to sentence him to 40 years.
But Jewel knew her fiancé was innocent. He'd been asleep beside her the morning of the attack.
Read part one of Jewel Mitchell's story here.
For years, she'd believed justice would prevail. That this case of mistaken identity that would finally get cleared up. But three appeals had failed. And the Innocence Project, a nonprofit that works to exonerate the wrongly convicted, still had Dean on its waiting list. He'd first written to them three years ago.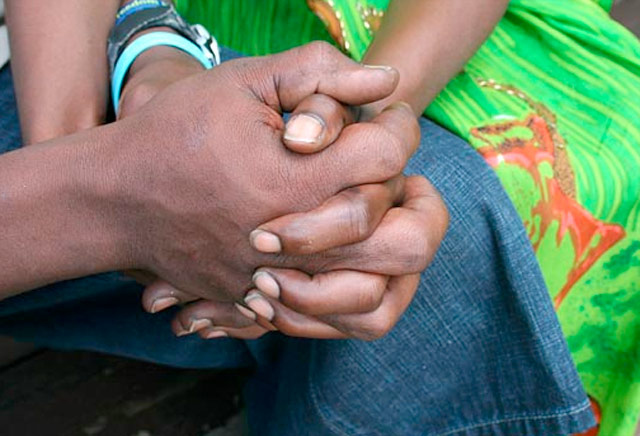 Gallery: Together again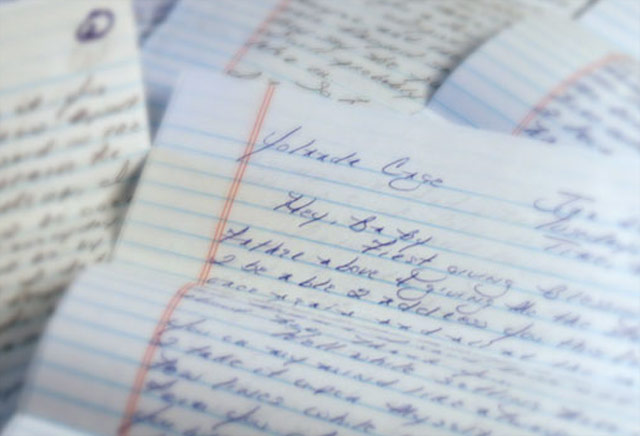 Editor's note: Reporting of the story
Who would blame Jewel if she took the easy way out? Wouldn't it be better to move on, to meet someone who could help raise her girls?
Her fiancé's words made Jewel cry. She wondered, for a moment, had he met someone else?
She knew better. When she processed his words and then spoke her own, they came from the heart.
Marry me, she told him.
Now.
Here.
She had never stopped believing in him. And she wasn't about to give up now, not after seven long years.
Their original wedding date - May 13, 1995 - had long ago come and gone. Dean still wanted her to have the ceremony she'd dreamed of.
Sitting in the plastic chairs in the visiting rooms, Dean accepted Jewel's proposal, but made her agree to wait. They would marry when he gained his freedom - no matter how long that took.
Behind the Scenes blog: Read the making of the story from reporter Stephanie Chen.
The DNA, the good news
Suddenly, it seemed, Jewel's life was a wedding party.
Siblings, cousins and friends were all getting married, and she played bridesmaid.
Weddings even became a part of her job. Working at a food company that catered $50,000 weddings at the Chicago Shed Aquarium, Jewel helped happy couples decide between roasted chicken and filet mignon.
Attending the lavish weddings, watching the beautiful bride and handsome groom sashay on the ballroom floor, Jewel always thought of her fiancé.
"I would put myself in her shoes and Dean in his," she says. "I would just visualize that being us one day."
But the arrival of that day seemed anything but certain. Four more years would pass before the Innocence Project would accept Dean's case. When it finally did, in September 2005, he'd been incarcerated 11 years.
Lawyers worked quickly to file for the release of evidence for forensic testing, but the process was painstaking. Jewel became a reliable source for the attorneys working on the case, calling them to check in every few weeks. She hunted for Dean's original attorney, who had moved to a new practice in Michigan after quitting midtrial. Perhaps he would hold valuable information for Dean's new attorneys.
"She was willing to do whatever it took in terms of being cooperative with us," said Alba Morales, the Innocence Project attorney who represented Dean and exchanged notes with Jewel on several occasions. "She was very brave."
The attorneys retrieved evidence saved from the crime scene, including saliva samples and the victim's underwear. DNA tests had never been performed because investigators couldn't find semen on the victim's clothing and at the time, the testing of saliva was rare.
To do those tests now, Dean's lawyers would need the permission of the Cook County State's Attorney Office. One in five prosecutors opposed post-conviction DNA testing in 225 Innocence Project cases, a University of Virginia study found. Luckily, Dean's did not.
On March 2008, three years after the Innocence Project accepted his case, Dean's attorney delivered the good news by phone: DNA tests of saliva from the victim's body and clothing positively excluded Dean.
The couple's family members screamed and clapped when Jewel told them the news. While they bounced up and down and hugged each other, she was quiet.
Hadn't she told them all along that Dean was innocent? That he was in bed with her on the morning of the crime. She knew the test results would be favorable. Her question was whether they would mean anything. Would Dean really come home this time?
A joyful reunion
Just as Jewel suspected, time moved like molasses. Days went by. Then weeks turned to months. Dean was not home.
She was 39, and had finished putting two girls through high school in a neighborhood where many students end up on the streets. She couldn't help but calculate the years -- and the way they should have been different.
If Dean were there, he'd have seen his girls graduate. They would have known what to look for in a relationship -- honor, respect and responsibility -- instead of falling for boys who drank and smoked.
When Latoni, an honor roll student, became unexpectedly pregnant at 17 with a man four years her senior, Jewel was devastated. If only their father were there.
On May 27, 2008, the phone rang at 8 a.m. The noise rattled Jewel from her sleep.
It was Alba, the lawyer from the Innocence Project. Legal review of the evidence exonerating Dean had eaten up two months. Now the waiting was over. Dean is coming home, she said. Can you get him today?
Everything after that call is a blur for Jewel. Her eldest daughter remembers seeing her mother glued to the phone, confused about what do to next. Finally, she headed to the ATM to get cash to buy Dean new shoes, pants and shirts.
Dean's sister drove his mother and Jewel the four hours to the prison in Canton, Illinois. They were slapped with a speeding ticket on the way down Interstate 55, but they didn't care. Family members and friends kept frantically calling their cell phones, pounding them with questions. Are you there yet?
It was black outside when they arrived at Illinois River Correctional Center. When they entered the prison, Dean was walking toward them, wearing the same oversized, infectious smile Jewel remembered from the night they met.
She screamed so loud she almost fainted. They embraced.
"It was a hot kiss," says Jewel, giggling. "Like the kind in the movies."
The 15-year-old victim
On May 27, 2008, Dean Cage tasted freedom. But across state lines in Indiana, a woman's world unraveled. Old wounds tore open.
How was it that someone had botched her case?
It is CNN policy to not identify victims of sexual assault. But the woman who was attacked and sodomized at age 15 spoke to CNN about her ordeal and how Dean's exoneration affected her life.
She still believes Dean was her assailant.
She worked hard to overcome the nightmares and flashbacks that haunted her after the assault in November 1994. The bashful 15-year-old who sang first soprano in the choir and loved to go to the movies with her stepfather became isolated and withdrawn. She feared men, and could no longer be alone with her stepdad.
But she found the courage to face four months of painful physical recovery and to testify against Dean. She graduated high school and college despite the emotional turmoil. She'd learned to love and trust again.
But discovering that Dean Cage would be set free, she found it difficult to even be around her husband and four sons.
Many victims find themselves in limbo after the exonerated are released. In most cases, attorneys say the victims continue to believe the exonerated are guilty. Many fear the person will seek revenge or that the perpetrator will find them.
"It's extremely hard to give up something that you have fervently believed for a long period of the time," said Rob Warden, director of the Center on Wrongful Convictions in Chicago.
No one has been arrested in the assault for which Dean served 14 years.
"I don't trust the justice system anymore," the victim said. "I thought I had closure, and I would be safe for 40 years. But you're never safe because look what happened."
Life after innocence
It's extremely hard to give up something that you have fervently believed for a long period of the time.
--Rob Warden
Today, Jewel and Dean live in a two-story house in South Chicago with their two daughters, grandchild and a fluffy white puppy named Dora. On the front porch are two chairs where the couple likes to sit and watch their granddaughter play.
Yakee is Latoni's daughter, a wide-eyed 3-year-old in braids and a denim dress. Like her grandmother Jewel, the toddler's words flow freely. She calls Dean, her grandfather, "Papa."
Dean, now 42, bends down to the floor to let Yakee climb on his back. He chases her and reads her books about colors and shapes. He spoils her, and enjoys getting to do with his granddaughter the things he missed doing with his own girls.
These scenes give Jewel peace. She admits she was worried about whether her relationship with Dean would work like before. Or had prison changed him too much?
"Then, I remember, I've changed too," says Jewel who turned 40 this year. "If we made it before, we can do it again."
There is no doubt that reintegration is challenging. Dean still stands with his back straight, arms clasped behind him. Some habits from prison are hard to break.
Jewel has suggested he seek some counseling to alleviate the memories of beatings and rapes he witnessed in prison, but Dean assures her he is OK.
A group of students and professors at Loyola University-Chicago's School of Law have helped Dean learn how to use the Internet, manage cell phone bills and text message. Known as the Life After Innocence Project, the group has also guided him to create a resume on a computer.
"It's kind of rough trying to adjust," admits Dean.
Laura Caldwell, director of the Life After Innocence, gives a lot of credit to Jewel. "Jewel believed in him and that was amazing. He has a house to live in. He has people who want to support him."
It took eight months for the state to expunge Dean's criminal records. In September, he received $170,000 from the state for the time he wrongfully spent in prison.
A civil suit filed against the Chicago Police Department in June, alleging police negligence, has yet to be decided.
"It is extremely easy to get convicted for something you didn't do with eyewitnesses testimony," said Jon Loevy, Dean's lawyer whose firm has represented a dozen exonerated prisoners. "Dean is clearly innocent and the police built an airtight case that he was guilty, so something went wrong."
On average, Loevy's successful clients receive about a million dollars for each year they were wrongfully imprisoned. But it can take years for the courts to reach a conclusion.
In the meantime, the exonerated are often penalized in their new lives for the time spent behind bars. The jobs they find pay less than what they would have made before incarceration, and nearly all of them lose their savings, homes and cars.
If we made it before, we can do it again.
--Jewel Mitchell
Even with the settlement, Dean works 35 hours a week at a minimum-wage job in a barbeque restaurant. The couple has no savings and no car.
But Dean says he is happy to be with Jewel and the family.
"She makes me feel good," he says. "She makes me feel happy. I don't think things would be the same without her. I don't know if I could've kept the faith all those years."
As they begin their second year reunited, Dean and Jewel find their plans for a wedding shuttered once again, this time by the rocky economy. They will marry when things get better, Jewel says, perhaps on her mother's birthday as they once planned -- 14 years ago.
"Honestly, I don't care," she says. "I will marry him anywhere."