Best friends shot 13 times, left in ditch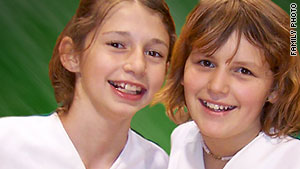 Taylor Paschal-Placker, 13, and Skyla Jade Whittaker, 11, were shot with two weapons, police say.
STORY HIGHLIGHTS
Police believe two guns may have been used to kill girls

Skyla Jade Whittaker, 11, and Taylor Paschal-Placker, 13, were best friends

They were shot while walking down a rural dirt road in Oklahoma

Tips? Call 1-800-522-8017. More than $30,000 in reward money is offered

New York (CNN) -- Two young girls, considered best friends, were found shot to death five months ago on the side of a dirt road not far from their homes in the small rural town of Weleetka, Oklahoma.
Police in Weleetka say there hasn't been a murder in town in more than 20 years. A double homicide involving two children is beyond anything Weleetka's 1,084 residents have experienced.
Taylor Paschal-Placker, 13, and Skyla Jade Whittaker, 11, were nearly inseparable. They played together after school, riding their bikes and sleeping over at each others' houses. On June 8, 2008, the girls were at Taylor's house and left at 5 p.m. to go on a walk down the road.
Taylor's grandfather tried calling Taylor on her cell phone shortly after the girls left. He wanted to tell them to be home before dark. When Taylor didn't answer, he went looking for the girls.
The frantic 911 call came from Taylor's grandmother at 5:41 p.m. "Somebody has killed my two girls over at my daughter's." Police arrived on County Line Road, just a quarter-mile from the Placker house, and found Taylor and Skyla shot to death on the side of the road.
The best friends were lying side by side in a ditch and had been shot multiple times in the head and chest, according to police. There was no sign either child had been sexually assaulted.
A witness told police he had seen the girls just a half an hour before they were killed.
Other witnesses reported seeing a man sitting outside his pickup, which was parked on County Line Road on the day of the slayings. He is described as 6 feet tall with long dark hair pulled back in a ponytail with a white pickup.
Detectives do not necessarily believe that this man was involved with the girls' slayings but say they are hoping he might have witnessed something that could help them.
At the crime scene, police found bullet shell casings, DNA and footprints, which are still being analyzed by the crime lab. Investigators are trying to trace the origin of the bullets in hopes of identifying a weapon, said Jessica Brown of the Okfuskee County Sheriff's Office.
Police have also determined that there were two guns used to shoot the girls, meaning they could be looking for two killers. The medical examiner reported that Skyla had been shot eight times and Taylor five times.
But the question remains: What could possibly be the motive for gunning down two children?
The girls were found near a bridge and just off the road in a remote area that was a popular gathering place. Investigators theorize that the killers had to know of it in order to find it. Could one of Weleetka's own have killed Skyla and Taylor?
Investigators say they continue to interview persons of interest but have not narrowed down any suspects.
Police and family ask that anyone who has information that might lead to the arrest of an individual responsible for the death of Skyla Whittaker and Taylor Paschal-Placker call the tip line at 1-800-522-8017. The reward being offered is in excess of $30,000.