(CNN) -- Investigators in Georgia are combing through a "tremendous mountain" of garbage at a landfill, searching for clues to the slaying of 7-year-old Somer Thompson, a sheriff's spokeswoman said Friday.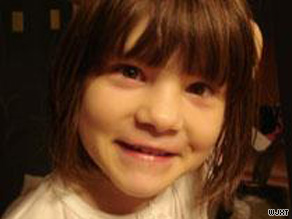 Somer Thompson, 7, was last seen Monday on her way home from school.
Authorities found the Florida girl's body Wednesday in the landfill near Folkston, about 55 miles north of Orange Park, Florida, where the girl was last seen by her siblings.
Some possible evidence has been removed from the landfill, but authorities won't describe what they found, said Mary Justino of the Clay County Sheriff's Department. Police have no suspects, she said.
She said other law enforcement teams are focusing on the locale where the child apparently was last seen. Justino said witnesses, including some children, saw her on the sidewalk in front of a vacant house that is being renovated after a fire.
"Since Monday, we have been trying to figure out who frequents that area," including anyone working on the home, she said.
Authorities are treating the death as a homicide.
"We know the cause of death. Our focus is on, we want to preserve the integrity of this investigation and are not releasing any information that in the long run would prevent us from prosecuting and convicting the person who did this to Somer," Justino said at a news conference.
"For that reason, at no point will we discuss cause of death, the manner in which she died or any other details regarding what was done to this child."
Somer's 10-year-old sister told police that Somer had been in a fight with another girl at school earlier in the day. The sister said she brought up the subject while she and her brother walked Somer home from school, and Somer ran off, apparently upset.
The sister said she lost sight of Somer in a group of other children leaving the school, according to a police report released Thursday.
About 900 leads have been called into a tip line, the sheriff's office said Friday afternoon.
Overnight, detectives finished interviewing the 90 registered sex offenders or predators within a 5-mile radius of the Thompson home, the spokeswoman said.
"They have been contacted in person; their homes have been searched; their families have been spoken to," she said.
The case may be featured Saturday on "America's Most Wanted," hosted by John Walsh.
A Monday evening viewing is planned, the sheriff's office said, and a memorial service will take place Tuesday.
Both will be open to the public, it said. However, a graveside service and burial following the memorial will be private, as will a reception later that day.

Justino said many in the community have offered to help financially with arrangements.
"There has been an outpouring of support from the community," she said.
E-mail to a friend

All About Missing Children • Florida • Georgia