(CNN) -- Police looking for a missing 7-year-old Florida girl said Wednesday they have found the body of a child in a landfill in south Georgia, about an hour from the girl's home.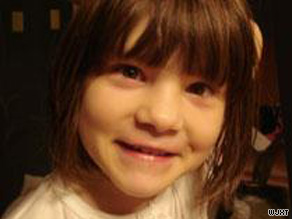 Police have been looking for Somer Thompson, 7, who disappeared Monday on her way home from school.
Investigators haven't identified the body. The landfill is about 55 miles north of where Somer Thompson became separated from her schoolmates Monday on her way home from school in Orange Park, Florida, authorities said.
"We hope and pray that it's not the body of Somer, but the garbage that was brought into that area ... was collected in the Orange Park area," Clay County Sheriff Rick Beseler told reporters.
The body, found at a landfill near Folkston, Georgia, was partially covered, Beseler said.
"All that we can see at this time are the lower extremities, but it is a white female or a white child. We cannot say the sex," he said.
But Georgia Bureau of Investigation spokesman John Bankhead said officials believe the body is that of a female.
A criminal investigation has begun, and members of the FBI's forensic crimes unit were heading to the landfill to process the scene, Beseler said.
Somer's parents have been alerted to the find, he said.

Watch how authorities are investigating Somer's disappearance »

Beseler said police routinely search garbage when a missing person case has been initiated.
Authorities plan to take the body Thursday morning to Savannah, Georgia, for an autopsy, Bankhead said.
E-mail to a friend

All About Missing Children • Florida • Georgia