By Steve Brusk
CNN





(CNN) -- A scene that has played out all too often this year in major U.S. cities repeated itself Tuesday on a street in Washington.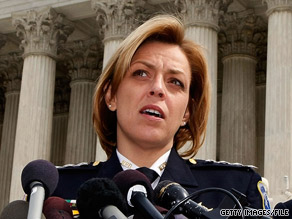 D.C. Police Chief Cathy Lanier says the public has a key role in solving violence against children.
Police sealed off a block with yellow crime scene tape, crisscrossing a street littered with shell casings. Two young people died in a drive-by shooting while it was still daylight. Three teenagers were wounded. The street in northeast Washington's Clay Terrace neighborhood was crowded with people as the gunfire erupted.
As detectives looked for answers, a frustrated police chief pleaded for information.
"It's somebody's child today and somebody else's child tomorrow," Police Chief Cathy Lanier told reporters. "Unless people start to come forward and give us information, it might not be your child today, but if we don't stop this, it could be."
Police suspect a dispute between neighborhoods could be behind the shootings.
"All of our resources are going to shut down these disputes," Lanier said. "Unfortunately, a lot of these beefs are not based on much of anything but a history of disputes. And it takes very little to spark things."
Last week, President Obama sent U.S. Attorney General Eric Holder and Secretary of Education Arne Duncan to Chicago, Illinois, to meet with school officials, students and other community members to discuss youth violence and prevention. The move was prompted by the September beating death of a Chicago honor student who was a bystander caught in the middle of a street fight between two groups of students.
The beating death of 16-year-old honor student Derrion Albert, captured on amateur video by a witness, was broadcast nationally and sparked public outcry against youth violence.
In Washington on Thursday, Mayor Adrian Fenty went to the scene of the Clay Terrace shootings to talk to police officers and residents. He said he had been in the same area six months ago, announcing arrests and gun seizures in a large police takedown. "The news was much better" that day.
"What this shows us is there's a lot of work left to be done despite the great work of the police," he said.
Some people had already come forward with information, Lanier said, leading to a description of a black sport-utility vehicle with tinted windows.
"I think that's the sentiment of the people I talked to. They're tired of this. They want it to stop," she said.
Vowing to make arrests quickly, the chief said, "It's time for this kind of drive through a neighborhood and open fire on people standing outside to stop. We're not going to let this continue."

E-mail to a friend

All About Murder and Homicide • Washington, DC