NEW YORK (CNN) -- The friend of a man accused of conspiring to use weapons of mass destruction in the United States said Saturday he had put his life "on hold" because of the investigation.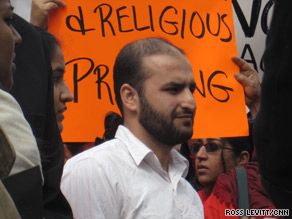 Terror suspect Najibullah Zazi was living with Naiz Khan, pictured, when he was picked up last month.
Naiz Khan said he has been under round-the-clock surveillance by authorities ever since Najibullah Zazi was charged with conspiracy.
Authorities say Zazi planned to be in New York with the intent of using an explosive device on September 11, 2009. The alleged plot, which came to light after raids in New York in mid September, may have been targeting a major transportation center, sources told CNN.
Zazi was living with Khan, a former coffee cart vendor, in the Flushing neighborhood of Queens when Zazi was picked up.
Zazi, 24, has pleaded not guilty to one terrorism conspiracy charge. Khan, 26, has not been charged and has denied any wrongdoing.
Khan spoke to reporters Saturday during a protest in Queens by a mostly Muslim group of about a dozen people. They accused law enforcement officials of racial profiling in their attempt to capture possible accomplices of Zazi.
Khan said he was caught up in the investigation by a series of coincidences. One was that he happened to meet Zazi at a local mosque hours after Zazi arrived in New York last month and offered him a place to stay.
The other coincidence was that Khan had flown back to the United States from Pakistan on the same day as Zazi -- January 15 this year, he said.
"My life has been so affected by this. I have no job now. I am looking for a job. Before, the people who used to give me a job, when they heard about me, they would not give me that job," Khan said.
"Now I have put my life on hold."
The protesters said their neighborhood had been disrupted by recent FBI and New York police raids and residents were fearful because of the police presence. They said some of them had been questioned on the street solely because of the way they look.
Monami Maulik, executive director of the grassroots organization DRUM, said two Muslim girls wearing hijabs were stopped and one was asked, "Are you a terrorist?"
A woman introduced as a law school student called the incidents "gross violations of basic human rights." Another speaker said she represented more than 100 street vendors who sympathize with the Muslim community's grievances.
"We demand that the targeting of the Muslim community stops now," she said.
A Hispanic man, one of the protesters, said the issues affected all minority groups.
"This is not just a Muslim issue. It's an immigrant issue. It's a Hispanic issue."
E-mail to a friend

All About Terrorism • Najibullah Zazi • Flushing (New York)