From Susan Candiotti
CNN





NEW YORK (CNN) -- Attorneys in New York confirmed to CNN the identities of two more men questioned in an investigation into an alleged terror plot involving 24-year-old Najibullah Zazi, who is charged with conspiring to use weapons of mass destruction on U.S. soil.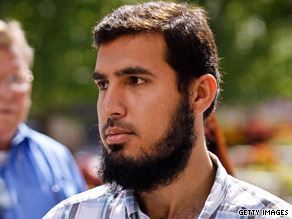 Terror suspect Najibullah Zazi, seen here September 17, is accused of plotting to bomb a New York target.
One of them is a Bosnian immigrant named Adis Medunjanin, 25. Medunjanin's attorney, Robert Gottlieb, said his client's home in the Whitestone neighborhood of the New York borough of Queens was searched last month when the investigation broke.
Also questioned was 24-year-old taxi driver Zarein Ahmedzay, who also has an address in Queens.
Attorney Ron Kuby, who represents Ahmad Wais Afzali -- a 37-year-old Muslim cleric from Queens who is charged with making false statements in the Zazi case -- told CNN that intelligence officers from the New York Police Department showed Afzali photos of Medunjanin and Ahmedzay.
Authorities say Zazi, who pleaded not guilty to conspiracy charges, planned to be in New York with the intent of using an explosive device on September 11, 2009.
Medunjanin, his sister and parents were interviewed as part of the Zazi investigation, Gottlieb said. Medunjanin talked with police for about 14 hours, he said.
His client has not been charged with any offense.
Gottlieb said, based on his understanding with other lawyers, "Medunjanin's photo has been shown to others involved in the case."
He also said he told the U.S. attorney and FBI agents that Medunjanin would be happy to cooperate in any way with the investigation.
"Based on what I know, I know of no evidence he engaged in any crimes," Gottlieb said. Authorities would not tell him whether his client is the subject of an investigation, he said.
Medunjanin, a 25-year-old native of Bosnia, arrived in the United States in 1994, and was naturalized in 2002.
Gottlieb declined to comment on why Medunjanin moved to the United States.
When a CNN producer visited on Friday an apartment in Queens listed in Medunjanin's name, a man answered the lobby phone and said he was Adis Medunjanin.
"Thank you very much but we are very tired," he said.
Asked whether he knew Zazi, he said: "Thank you, have a good day."
It remains unclear how Medunjanin knew Zazi or when they last met.
CBS News, citing investigative sources, reported Friday that Medunjanin and Ahmedzay accompanied Zazi to Pakistan, where Zazi "received instructions on bomb making and weapons use at the al Qaeda terrorist camps." CBS said investigators have not determined whether the two men also received training at the camps.
Gottlieb told CNN Medunjanin "has never trained at a training camp anywhere in the universe," and refused to comment on whether his client has ever been to Pakistan.
The FBI seized computers and cell phones during a search of Medunjanin's home, and later returned them, he said. There was no "incriminating information or evidence" from the seizures, he said.
One source close to Medunjanin said Medunjanin and Zazi spent their teenage years in Flushing, Queens, and attended Flushing High School. The source said they also frequented the same mosque, and that Medunjanin did not know about Zazi's travel between Denver, Colorado, and New York this year.
Another acquaintance of Zazi told CNN last week that he knew of two visits to New York by Zazi this year -- one in the summer and the second in September, shortly before Zazi was arrested. Zazi lived in Queens until a visit to Pakistan in August 2008.
He moved to Denver shortly after he returned to the United States on January 15.
E-mail to a friend

CNN's Kiran Khalid contributed to this report.
All About Najibullah Zazi • Terrorism • Pakistan