(CNN) -- Campus police at the University of South Florida were questioning two men in connection with back-to-back incidents on the school campus Monday.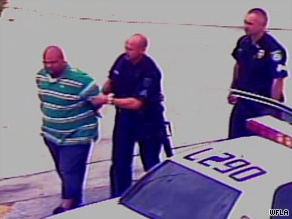 Police take a man into custody at the University of South Florida after receiving reports of a person with a bomb.
Investigators were questioning one man following a report of an armed intruder, USF police Lt. Meg Ross said. And a second man was also being questioned following a report of a man carrying a large hunting knife and a puppy, she said.
USF police asked the Tampa police's bomb team to respond to the campus regarding a backpack belonging to man in the first incident, said Ross. No one was hurt, she said, and no shots were fired.
"We have someone we think may have been involved," Ross told CNN, "but we have to investigate fully."
"We have not looked in his backpack," she added. "We have the bomb squad on their way to look at that."
Police received a report that a person armed with a bomb and a gun was in the area of the university's library. Authorities later received a report of a subject on a bus in the area of the university's Parking and Transportation Services, Ross said.
"We checked the area at the library, did not locate him, but then received a subsequent report of a subject on a bus," she said.
The campus stayed on lockdown after police received a report almost immediately after taking the first man into custody of a man wearing a black tank top and a cowboy hat, carrying a knife and a black puppy.
"We're questioning him," Ross said. "We do not believe he is related to the first incident with the backpack."
Text messages were sent out to 13,000 employees and 45,000 students to warn them after the first incident, and emergency sirens on campus also were activated, officials said.
But Ross said that the campus had been given the all-clear, except for the shuttle-bus area -- where the first subject was taken into custody -- while Tampa Police examined the backpack.
E-mail to a friend

CNN's Rich Phillips contributed to this report.
All About University of South Florida