(CNN) -- Several people who traveled from New York to Pakistan last year with a man accused of plotting a terrorist attack have since returned to the United States, sources close to the investigation told CNN.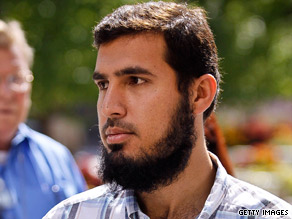 Terror suspect Najibullah Zazi, seen here September 17, is accused of plotting to bomb a New York target.
A grand jury has been in session in New York in the last week as further charges are considered in the expanding terror investigation, CNN learned.
Najibullah Zazi, 24, appeared in federal court last week. He pleaded not guilty to charges of conspiring with others to detonate explosives in the United States.
Prosecutors allege that on August 28, 2008, Zazi and others flew to Peshawar, Pakistan, a city with a strong Taliban and al Qaeda presence.
Those currently under surveillance in the United States include members of Zazi's travel group, according to one source familiar with the investigation. Another source said at least some of the travel group are back in the United States. Officials will not discuss the identity, number or location of those under surveillance.
One of those under round-the-clock surveillance is Queens, New York, resident Naiz Khan. He and Zazi were friends as teenagers and Zazi stayed at Khan's rented apartment on September 10 after driving to New York from Denver.
Khan said he has been caught up in the investigation by a series of coincidences. One was that he happened to meet Zazi at a local mosque hours after Zazi arrived in New York last month and offered him a place to stay. He said another coincidence was that he had flown back to the United States from Pakistan on the same day as Zazi: January 15.
In an interview with CNN, Khan said he had not flown to Pakistan with Zazi, but had been visiting family in Karachi as he does every year. He showed CNN his passport, which had an entry stamp for Karachi for November 4.
Federal investigators found backpacks and a scale when they raided Khan's apartment soon after Zazi stayed there. In the past, scales have been used to measure ingredients for explosives; backpacks were used in the terrorist attacks in Madrid in 2004 and London in 2005.
Khan said he had never seen the scale and that the backpacks had been a gift to his uncle, who also lives in the apartment, from a store. He said his uncle planned to send them to children in Pakistan.
Khan said Zazi told him he was visiting New York to deal with a business issue related to a permit for a coffee cart that he owned. He also said Zazi visited New York several months previously. Khan said he was shocked at the accusations against Zazi.
"He used to enjoy his life and was very happy and never -- I never heard anything from him like that," Khan said.

Watch Khan say he didn't know Zazi was in Pakistan at the same time he was »
Sources close to the Zazi investigation said it is continuing at full throttle. "No one will tell you that we have our arms around this," one source said.
Meanwhile, a grand jury in New York is hearing evidence and testimony, CNN has learned. One of those who has appeared before the grand jury is Zazi's uncle, Naqib Jaji. He told CNN at his home in Aurora, Colorado, that he and his wife Rabia Zazi were flown to New York by the federal government last week, and he had testified for several hours.
Najibullah Zazi spent several months living with the couple after moving to Colorado from New York at the beginning of this year.
Sources will not discuss whether the grand jury is considering additional charges against Zazi or charges against others.

One source close to the investigation said Zazi was a "committed jihadist" and that his plans were well advanced.
After Zazi appeared in a New York courtroom last week, his attorney, J. Michael Dowling, said he had not seen "any evidence whatsoever of an agreement between Mr. Zazi and another person, which is the essence of a conspiracy charge."
E-mail to a friend

CNN's Kathleen Johnston and Jim Spellman in Denver, Colorado; Kiran Khalid in New York and CNN Terrorism Analyst Paul Cruickshank contributed to this report.
All About Najibullah Zazi • Terrorism • Pakistan