By Janet DiGiacomo
CNN





(CNN) -- A newborn infant, who was abducted Tuesday from his home in Tennessee, has been found alive in Alabama, according to authorities.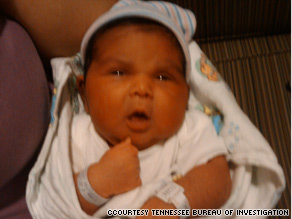 Yair Anthony Carillo is reported to be in good health since being recovered.
Yair Anthony Carillo was found Friday night in a home in Ardmore after an intensive three-day search, said Mark Gwyn, director of the Tennessee Bureau of Investigation.
Tammy Renee Silas, 39, was taken into custody for allegedly stabbing Maria Gurrolla at her Nashville home and then stealing the baby just four days after he was born.
Gurrolla told police a woman posing as an immigration worker attacked her and took Carillo.
A break in the case came when investigators were able to track down a Kia Spectra that was photographed in a Wal-Mart parking lot shortly before the attack. Authorities determined that Silas rented the vehicle from the Nashville airport, Gwyn said.
My Harrison, of the FBI's Memphis office, praised all of the investigators who worked on the case.
"We reunited a family," she said. "It doesn't always turn out this way."
There is no word on a possible motive or what charges Silas will face.
Carillo, who is reported in good health, will be reunited with his family after a routine medical examination, Harrison said.
E-mail to a friend

All About Kidnapping