NEW YORK (CNN) -- An Afghan native accused of planning to bomb a New York target pleaded not guilty Tuesday to a terrorism conspiracy charge.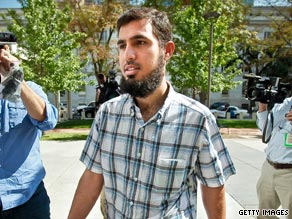 Terror suspect Najibullah Zazi, seen here September 17, is accused of plotting to bomb a New York target.
Najibullah Zazi, 24, was ordered held without bail in a hearing in Brooklyn federal court.
"To use a hackneyed phrase, I'd like to stop this rush to judgment because what I have seen so far does not amount to a conspiracy," Zazi's attorney, J. Michael Dowling, told reporters.
Authorities say Zazi planned to be in New York "with the intent of using" an explosive device on September 11.
Prosecutors have said that Zazi had been to Pakistan three or four times in the last decade and that he had traveled to Canada twice.
New York Police Commissioner Raymond Kelly told reporters that the arrests in the case have eliminated the immediate threat of the alleged terror plot.
"I believe this case has been thwarted, has been broken up. I see, at this time, not a danger emanating from the people involved in this investigation," Kelly said.
Investigators say Zazi plotted to make bombs from household chemicals; and he made several recent purchases from beauty supply stores in suburban Denver, Colorado, employees said last week.

Watch CNN's Deborah Feyerick report on arraignment »
"I'm not saying that I've seen all the evidence in this case produced by the government," Dowling said Tuesday.

Watch Zazi's attorney discuss the allegations »
"But, what I've seen so far is that Mr. Zazi traveled to Pakistan, which is not illegal, that Mr. Zazi purchased certain products that contain chemicals that allegedly could be used to make a bomb. Those acts were not illegal," he said.
Prosecutors said Tuesday that evidence was gathered under the Foreign Intelligence Surveillance Act, a 1978 law passed to rein in the wiretapping abuses of the Watergate era.
Zazi was arrested on September 19. Four days later, a federal grand jury indicted him on one count of conspiracy to use weapons of mass destruction against unspecified targets in the United States.
The one-count indictment alleges that between August 1, 2008, and September 21, 2009, Zazi "knowingly and intentionally conspired with others to use one or more of the explosives."
Zazi's father, 53-year-old Mohammed Wali Zazi, also from suburban Denver, and Ahmad Wais Afzali, a 37-year-old Muslim cleric and funeral director from the New York borough of Queens, also have been charged with lying to federal agents in the case. Both have been released on bond.
According to the indictment, nine pages of notes found on Najibullah Zazi's laptop computer include formulas for making triacetone triperoxide, or TATP. The highly volatile, highly explosive compound can be made from widely available chemicals, including acetone -- the main ingredient in nail polish remover -- hydrogen peroxide, flour and muriatic acid, a diluted form of hydrochloric acid used to clean metal.
In the documents, federal agents say Zazi checked into a hotel suite in Aurora, Colorado, the the same day he was seen on surveillance video purchasing 12 large bottles of "Ms. K Liquid 40 Volume," a peroxide-based product.
The hotel suite was outfitted with a stove, the documents said. He checked back into the same hotel suite on September 6-7. Testing later revealed the presence of acetone residue in the vent above the stove.
Zazi searched the Web site of a home improvement store near the Flushing neighborhood of Queens for muriatic acid on September 8, the documents state. The following day, he began driving from Colorado to New York City in a rental car with his laptop, the memo says.

He arrived in Flushing on September 10 and then became suspicious that he was being tracked by law enforcement. He purchased an airline ticket and returned to Denver on September 12, two days before he was scheduled to turn in his car in New York.
He spent the night of September 10 at a Queens residence, where federal agents later found his fingerprints on a scale that FBI experts say could be used to weigh the ingredients for explosives.
E-mail to a friend

CNN's Deborah Feyerick contributed to this report.
All About Najibullah Zazi • Terrorism