(CNN) -- When their 19-year-old son, Jason, disappeared eight years ago, any concept of a normal life ceased for the Jolkowski family.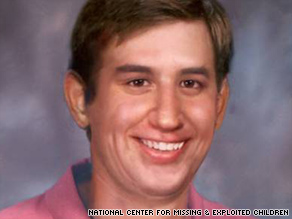 Jason Jolkowski would be 28 today and might look like the man shown in this photograph.
Kelly and Jim Jolkowski and their other son, Michael, believed at first that Jason would walk through the front door of their Omaha, Nebraska, home at any moment. Now, every time a body is found somewhere, the news sets their hearts pounding.
To this day, police say they have no evidence of foul play. Nor, they say, do they have any evidence that Jason simply ran away. It is a bona fide mystery.
Kelly Jolkowski described her life in an open letter to her missing son a year ago: "We waited and hoped that you'd walk in the door ... and that the whole awful event would be over, but that didn't happen," she wrote. "It feels as if it never may end, and that we may have to wait for our life after this world to see you again."

Watch a report on the case »
Since shortly after Jason's disappearance, the Jolkowskis have thrown their energy into raising public awareness about what to do when a loved one goes missing. After three years of lobbying, they were able to get a law passed in Nebraska creating a statewide missing persons database.
They founded a nonprofit organization called Project Jason, and its Web site tracks missing persons cases across the country. According to the site, Project Jason has distributed some 50,000 missing persons fliers since 2003.
"We feel that some good is coming out of Jason's story," Kelly Jolkowski told CNN. But she said she still hopes to find her son someday.
The last time anyone who knew him saw him, Jason Jolkowski was bringing the empty trash cans in from the curb. That was June 13, 2001. Since then, his cell phone has fallen silent and his bank account hasn't been touched. His last paycheck was never cashed.
Jason was 19 and attending community college part time. He had a job at a restaurant and wanted to be a disc jockey. On the day he disappeared, Jason and his younger brother, Michael, were on summer break from school. Their parents were at work, and the boys were home alone.
Jason worked at a restaurant called Fazoli's. His boss had called him that morning and asked him to come into work on his day off.
Jason's car was at the mechanic's shop, so his boss arranged a ride for him with a co-worker. She and Jason were to meet at a high school parking lot that was within walking distance from the Jolkowskis' home.
According to his mother, Jason had walked that seven-block route before. It took him along quiet, residential streets with little pedestrian or vehicle traffic.
Jason was last seen at 10:15 that morning, standing at the end of his driveway. Less than an hour later, his boss called and spoke with Michael, complaining that Jason had not shown up for work and had never arrived at the high school to meet his ride.
His parents arrived home from work to learn that Jason had been missing all day. They called Jason's friends. None of them had seen or heard from him that day.
"Jason was a quiet boy," his mother said. "He only had a small handful of friends. He was shy."
Jason did not have a girlfriend and was not the sort of person to take risks, like hitching a ride with a complete stranger, his mother insisted.
His parents called police the next morning. Like so many people, the Jolkowskis mistakenly believed there was a 24-hour wait before police would accept a missing person's report.
"And then it took at least another 10 days before police took Jason's disappearance seriously," Kelly Jolkowski said. "They assumed this was a typical teen runaway scenario."
But according to the family, Jason did not have a history of running away and was not a troubled teen. He had no reason to run off. From the beginning, his family feared an accident or abduction.
Police began to interview neighbors and conducted searches 10 days after his disappearance, but valuable time had been lost, Kelly Jolkowski said.
"We'd have liked to see more activity in the first crucial hours, but we do feel they stepped up to the plate to do all they could and in the end, they did a proper investigation," the Jolkowskis said in a prepared statement. "We were pleased by the meetings they had with us, following up on any leads, talking to his friends, checking the computer and conducting interviews."
Despite mounted searches, ground searches, a helicopter and the use of infrared technology, there was no sign of Jason or any clues to his whereabouts. The family is not certain whether dogs were brought to track the route between the Jolkowski home and the high school. But his mother said she believes that if police had any evidence, they would have shared it with the family.
Detective Jim Shields of the Omaha Police Department said the case remains an open and active investigation.
"I know his parents have expressed concern about how the investigation was handled in the beginning," he said, "but in missing adult cases, often we wait a few days because adults have the right to come and go freely."
Police said they have no clues or evidence in the case. It is categorized as a missing person's case, and authorities have no evidence suggesting Jason is no longer alive. "We simply don't know and really hope for more tips," Shields said.
At the time he went missing, Jason would have only had about $60 on him, his mother said.
She speculated in her open letter about what his life might be like now.

"If you are still with us, you could be married and have children. You may have graduated from college and be pursuing a career," she wrote. "So many life events which normally happen with someone of your age may have passed by. We hope and pray that you haven't been cheated of the life you were meant to live."
Jason Jolkowski is described as 6 feet 1 inch and 165 pounds with brown hair and brown eyes. He was last seen wearing a Chicago Cubs T-shirt, black dress pants and black dress shoes. Anyone with information leading to his whereabouts is asked to call the Omaha police at 402-444-5818.
E-mail to a friend

All About Missing Persons • Nancy Grace • Omaha