(CNN) -- The head of a Washington state mental institution resigned amid an investigation into the escape of a legally insane killer, the state's health department announced Wednesday.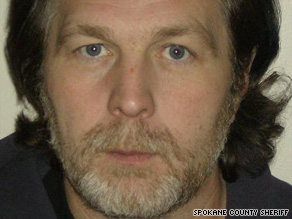 Phillip Paul escaped from hospital officials on September 17 during a field trip to the county fair.
"Because of the recent circumstances of a patient escaping from Eastern State Hospital while attending the Spokane County Fair, I think it is best that I resign my position as Chief Executive Officer of the hospital effective at the close of business October 1, 2009 and retire from State Service effective November 1, 2009," wrote Harold Wilson in his resignation letter.
Wilson was chief at the hospital near Spokane for a decade and had worked there for 28 years, he said in his letter.
"I leave with saddened heart and can only hope that we can overcome public sentiment and once again provide the treatment for our patients that they so desperately need," he wrote.
Criticism targeted at Eastern State Hospital came after Phillip Paul, 47, was on the run for three days last week. Paul was on a field trip to a county fair when he made his break on September 17, police said.
Paul had been planning the escape for "at least the last several months," Spokane County Sheriff Ozzie Knezovich said Sunday after Paul was recaptured in Goldendale, about 250 miles southwest of Spokane.
In an interview with CNN affiliate KXLY, Paul refuted the idea that he planned his escape, and said that although he thought he would "like to escape," the break was "spur of the moment."
Paul had been confined to the mental institution after he confessed he strangled and slit the throat of community activist Ruth Motley in 1987, KREM-TV reported. According to court documents obtained by KREM, Paul believed Motley was a witch and killed her in response to voices in his head. He subsequently burned a deer carcass as a sacrifice, according to the documents.
Don't Miss
Officials have yet to determine whether any disciplinary actions might be taken against staff personnel because of Paul's escape, Doug Porter, assistant secretary of Washington's Department of Social and Health Services, told CNN.
"We're really not yet at the point where we can assign responsibility or blame for what did or did not happen," he said. Considering Paul's mental and criminal history, Porter said, "we were increasingly concerned about why he would've been allowed to go on a public outing like this."
Porter added that the outings are part of the treatment plan for patients, including those institutionalized because they committed a crime. Those patients are sometimes reintegrated into the community, and the outings are a way to prepare them for that transition, Porter said.
But now the hospital must reassess whether that is an appropriate treatment plan for all patients, he said.
Paul is back at Eastern State Hospital and under high-risk security watch, health department spokesman Jim Stevenson told CNN. Paul told KXLY that he wouldn't attempt another escape and doesn't think he'll get the chance to, either.
"I hate to even think what I've done to myself," he said.
Since Paul's escape, outings at all three of the state's mental institutions have been canceled, Stevenson said. A review of the policy that allows patients to take trips has been ordered along with an investigation into the circumstances of the escape, he said.
E-mail to a friend

All About Murder and Homicide • Psychotic Disorders