(CNN) -- Five members of a family were found slain in their Beason, Illinois, home, authorities said Tuesday, and they urged people in the area to be cautious until the killer is found.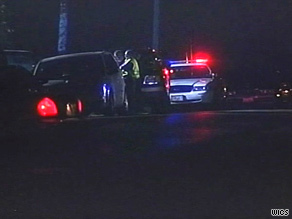 Police officers stand patrol outside the Gee household late Monday evening.
"This was a brutal homicide against an entire family and we are determined to identify and arrest those responsible," Logan County Sheriff Steve Nichols said in a news conference.
He said authorities received a 911 call about a possible shooting at the home shortly before 4:30 p.m. (5:30 p.m. ET) Monday. When law enforcement officials arrived, they discovered the five bodies, Nichols said.
He identified the dead as Raymond Gee, 46; Ruth Gee, 39; Justina Constant, 16; Dillon Constant, 14; and Austin Gee, 11.
One survivor, a 3-year-old girl, is in a hospital in Peoria, Illinois, he said. He did not identify the girl.
The sheriff did not release the manner of death, but said autopsies were under way Tuesday.
He warned people in the area to be cautious.
"Until we find this person, we would consider this person armed and dangerous," Nichols said. He did not release any further details, and it was not immediately clear if authorities had identified a suspect.
"Leads have been developed and are being vigorously pursued," he said, without elaborating.
Beason is about 45 miles northeast of Springfield, Illinois.
E-mail to a friend

CNN's Kara Devlin contributed to this report.
All About Crime