WASHINGTON (CNN) -- A 24-year-old Colorado resident and Afghan national who is a suspect in an alleged terrorist plot in the United States has admitted to having ties to al Qaeda, an administration official familiar with the matter told CNN on Friday.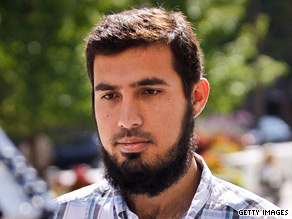 A lawyer for Najibullah Zazi disputed claims that bomb-making plans were found on his client's computer.
Either a plea deal or charges are possible for the man, identified as Najibullah Zazi, the official said.
A spokeswoman for Zazi's attorney said Zazi began meeting in Denver with the FBI at 9 a.m. Friday for the third consecutive day, and was still there by nightfall. Zazi's father Mohammed met for three hours Friday afternoon with the FBI, then returned to his home.
The alleged terrorist plot, which came to light this week after raids in New York, may have been targeting a major transportation center, such as a large railroad or subway station, sources close to the investigation told CNN on Thursday.
There were plans for an attack, presumably in the New York area, where crowds are large and security screening for travelers who are not flying is lax, the sources said.
"While DHS and FBI have no information regarding the timing, location or target of any planned attack, we believe it is prudent to remind transit authorities to remain vigilant," the Department of Homeland Security said Friday in a written statement.
Two sources familiar with the investigation said that Zazi had video of New York's Grand Central Terminal, a massive junction of rail and subway lines, as well as shops and restaurants, through which pass a half-million people per day.
A former counterterrorism official briefed on the investigation said bomb instructions were found but could not say where.

Watch why Colorado man is being questioned by authorities »
The former official said backpacks, computers and maps were found during searches in the New York City borough of Queens, and field tests turned up positive for explosives. But such tests often yield false positives, and the former official was unaware whether more definitive test results had been obtained.
On Wednesday, federal agents searched Zazi's apartment in Denver and another home in the same Denver suburb in connection with the investigation.
A law enforcement official told CNN that diagrams showing how to make bombs were found on the computer that Zazi had with him when he was stopped in New York during a recent visit, but his lawyer, Arthur Folsom, denied that was true.
"There's no diagram of a bomb; there's no information like that," Folsom told reporters Thursday as he accompanied his client to his second meeting with federal agents. Had that been the case, he asked, "Do you really think the FBI would have allowed us to walk out of here last night?"
Don't Miss
Zazi has no ties to terrorism, Folsom said.
He suggested that Zazi may have drawn investigators' attention "because he stayed at a house owned by an old friend of his who was under observation from the FBI."
Folsom said Zazi stayed in an apartment that was raided after he had driven from Denver to New York on business. Sources close to the investigation told CNN that the Queens raids were spurred by a confluence of events in the city -- including the upcoming U.N. General Assembly session and President Obama's Wall Street speech on Monday.
Law enforcement sources with knowledge of the investigation said the Colorado searches were part of a probe that began with Zazi and led to New York.
Zazi has driven limousines for First ABC Transportation in suburban Aurora, near Denver International Airport, for about six months, according to a worker who answered the phone at the company.
The man, who identified himself only as "Joe," said he was startled to hear Zazi was under investigation. He said Zazi was a hardworking man who was single-handedly supporting his family.
"He is a young, nerdy, kind of good kid -- nothing to do with religious or anything," the man said. "He is a kid."
Joe said co-workers called Zazi "the bearded one" in a lighthearted way. When he heard that Zazi might be associated with a bomb plot, he said, "I was literally laughing."
"I agree with his lawyer he has nothing to do with that kind of stuff. His character is much better than that," Joe said.
The case began with a tip from a New York police informant and led to FBI wiretaps to develop the case, the former counterterrorism official said.
Agents launched the raids after police stopped Zazi on the George Washington Bridge during a recent visit to New York City, raising concerns that he would figure out he was under surveillance, the former official told CNN.

FBI Director Robert Mueller told a Senate committee Wednesday that he did not think the investigation had revealed any "imminent danger."
Resources devoted to the investigation include the placement of a hostage rescue team in New York for possible raids and the deployment of resources to the Denver area in Colorado, where another phase of the probe is taking place, the sources said.
E-mail to a friend

CNN's Deb Feyerich in New York and Jeanne Meserve in Washington contributed to this report.
All About Terrorism • New York City • U.S. Department of Homeland Security • Federal Bureau of Investigation