ANTIOCH, California (CNN) -- Investigators found another bone on property belonging to kidnapping suspects Phillip and Nancy Garrido on Friday, as they scoured the yard for possible clues to the abductions of two other girls about 20 years ago, officials said.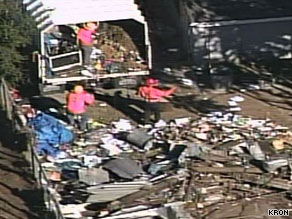 Police search for evidence relating to missing girls Ilene Misheloff and Michaela Garecht.
At an afternoon news conference, authorities revealed that the bone was discovered as crews broke up concrete on the property.
Hayward police Lt. Chris Orrey said it will take time to determine whether the bone came from an animal or a human.
The search Friday at the property in unincorporated Contra Costa County involved the use of ground-penetrating radar, which showed irregularities in an area of the yard where cadaver dogs working separately showed interest Thursday, investigators said.

See how ground-penetrating radar works »
The Garridos face a combined 29 felony counts in connection with the 1991 kidnapping of Jaycee Dugard, then 11, from South Lake Tahoe, California. Authorities say the couple held Dugard in a hidden compound behind their home for 18 years and have said Phillip Garrido, a registered sex offender, fathered her two children.
Police from Hayward and Dublin, California, on Tuesday began executing search warrants simultaneously on the Garrido property and an adjacent property that he had access to. They are seeking any evidence in the 1988 abduction of 9-year-old Michaela Garecht of Hayward and the 1989 disappearance of 13-year-old Ilene Misheloff of Dublin.
Both agencies have said that, although Garrido has not been named a suspect in either case, he cannot be eliminated as a suspect.
Orrey said "boxes and boxes" of writings by Phillip Garrido were also recovered on the property and were being taken off-site so investigators "can look through every single page."
Little work will be conducted at the site over the weekend, Orrey said, but investigators will remain on the property to ward off trespassers, who have been spotted there in the past few weeks.
When the search resumes Monday, two kinds of search dogs will be brought in, authorities said: cadaver dogs and archaeological dogs. Cadaver dogs detect decomposing matter, investigators said, and archaeological dogs search for older material.
Earlier Friday, Orrey said the dogs would not return to the area until after it was cleared of debris.
"We just want to have all of the areas clear so they can do another sweep of the entire properties," she said.
Authorities also plan to continue searching the Garrido house, which county building inspectors have condemned as unsafe to occupy, Orrey said.

On Wednesday, authorities said they had found bones on both the Garrido property and the adjacent property but did not know whether they were animal or human.
Another bone fragment was found on the adjacent property last week.
E-mail to a friend

All About Phillip Garrido • Nancy Garrido • California