NEW YORK (CNN) -- The targets of a federal anti-terror raid were Afghan nationals who all attended or circulated at a New York-area mosque, a source with direct knowledge of the investigation said Tuesday.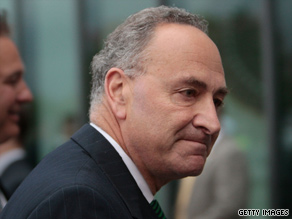 Sen. Charles Schumer said Monday's raids were not related to the president's visit, but others disagreed.
The Joint Terrorism Task Force raided several locations Monday, searching for explosive devices or components intended to be used on targets in the New York area, the source said.
None were found, according to the source. Publicity and the searches themselves may have "spooked" the people in the alleged cell or those connected to it, the source said.
It's the first time anyone can recall that Afghan nationals were suspected of involvement in a plot to attack the United States, the source said.
Law enforcement officials said the early morning raids by federal agents in New York were part of a terrorism investigation. Some men were detained, and some were released.
The law enforcement officials refused to say how many search warrants were executed and would not say whether anyone was still being detained Tuesday.
The U.S. attorney for the Eastern District of New York, Robert Nardoza, said both Monday and Tuesday that there would be no public information about the ongoing investigation.
CNN has not been able to find affidavits on any of the names it has obtained in connection with the raids.
The FBI is also looking at locations in the Denver, Colorado, area where bomb-making materials may have been purchased, a law enforcement source said. The source did not say who may have purchased the materials.
Colorado Gov. Bill Ritter and Democratic Sen. Mark Udall said they had been in touch with federal authorities authorities but did not elaborate. Both men said there was no "imminent threat" to Colorado.
Sen. Charles Schumer, D-New York, confirmed the raids in an interview with CNN.
"The FBI obviously keeps tabs and eyes on potential problems, and I would characterize the raids as preventative," Schumer said from Washington.
"There were some rumors that a terrorist act was imminent. That is not true," he said, saying he had received a classified briefing from FBI Director Robert Mueller, who had authorized him to release some information.
He said the raids were unrelated to President Obama's visit to New York on Monday for a speech. Citing "speculation the two were related," Schumer said, "They're not."
But two other sources contradicted Schumer, telling CNN that authorities had acted in part because of concerns that the president would be in town.
There was no indication of a specific plot against the president, the sources said. One of those sources, a member of Congress, said authorities took action "out of an abundance of caution."

Watch a report on the raids »
Another member of Congress, Republican Rep. Peter King of New York, also confirmed the raids to CNN.
"I can tell you that the raids were carried out. In Flushing, Queens, there was a search warrant, and there is an ongoing investigation, and it's being treated very seriously," King said. "As far as I know there are no arrests."
A source at the New York Police Department confirmed to CNN that the Joint Terrorism Task Force executed multiple search warrants "early Monday morning" at more than one building in the Flushing neighborhood of Queens, a borough of New York.
A federal law enforcement source confirmed the Joint Terrorism Task Force's involvement in the raids, adding that agents were searching for a particular individual who wasn't at the buildings that were raided.
In Washington, the chairman of the House Homeland Security Committee was briefed Monday on the situation, a congressional source said. Rep. Bennie Thompson, D-Mississippi, was briefed in the Capitol complex, the source said. A spokesman for Thompson declined to comment further, saying the briefing was classified.
Schumer told WABC that he was unable to provide further information because of the classified nature of the case. He said the FBI and New York City Police Department told him they would provide further information when appropriate.

A witness who lives in one of the buildings that was raided also said the raid took place in the early morning hours. According to the witness, the raid involved dozens of agents -- some wearing FBI jackets; some wearing suits -- with many carrying weapons.
The witness said agents emerged from one building carrying a black document box.
E-mail to a friend

CNN's Drew Griffin, Eden Pontz, Deirdre Walsh, Jeanne Meserve, Deb Feyerick and Kiran Khalid contributed to this report.
All About Terrorism • Afghanistan • New York City