ANTIOCH, California (CNN) -- The mother of a missing girl, whose 20-year-old case authorities now say may be linked to the Jaycee Dugard kidnapping suspects, said Tuesday that she holds out hope that her daughter will be found alive.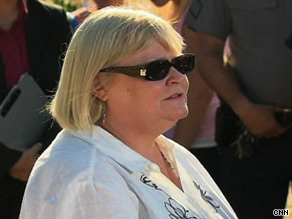 Sharon Murch says the case of her daughter, Michaela Garecht, is similar to Jaycee Dugard's.
"I know that if Jaycee Dugard can be found alive and come home after 18 years, then my daughter can be found alive and come home," Sharon Murch told reporters at a news conference.
The abduction of her daughter, 9-year-old Michaela Garecht, and another young girl are two unsolved abductions authorities are looking into in connection to Dugard kidnapping suspects Phillip and Nancy Garrido, police said.
Hayward, California, police obtained a search warrant for the Garrido home, along with a neighboring property, in connection with the 1988 abduction of Garecht, Hayward police Lt. Chris Orrey said.

Watch police search the Garrido home »
In addition, Dublin, California, police obtained a search warrant for the same locations in their investigation of the 1989 disappearance of 13-year-old Ilene Misheloff, police said.
Both warrants were being executed simultaneously Tuesday, police said. Investigators finished searching nearby property and were halfway through the search of the exterior of the Garrido home, Orrey said.

Learn more about Phillip Garrido's history »
The search could take several days, said Dublin Police Lt. Kurt von Savoye, as investigators sift through "a large piece of property with significant debris." Other officials said the search could possibly last into next week.
The Garridos face a combined 29 felony counts in connection with the 1991 kidnapping of Dugard, then 11, from South Lake Tahoe, California. Authorities believe the couple held Dugard in a well-hidden compound behind their home for 18 years, and have said Phillip Garrido, a registered sex offender, fathered two children with Dugard. The Garridos live near Antioch, California, in unincorporated Contra Costa County, east of San Francisco.
Police from both agencies said that while Garrido has not been named a suspect in the other abductions, he cannot be eliminated as a suspect in either case. Neither police department has interviewed Dugard, police said.
Garecht was abducted by a stranger in front of a market in south Hayward on November 19, 1988, according to Murch's Web site on her missing daughter, MissingMichaela.com. Over the last two decades, police have followed some 13,000 tips in investigating her disappearance, Orrey said.
She said Hayward police have also noted similarities between the Garecht and Dugard cases. The victims were similar in age and appearance, Orrey said, and both were abducted in daylight, in a "brazen" manner. The suspect vehicle in the Garecht case is also similar to the sedan found on the Garrido property, she added, and in pictures from that time, Garrido appears to resemble a sketch of a suspect based on a witness description.
Murch said she also noticed the similarities in their cases and thought it could lead to finding her daughter.
"My first thought when I heard Jaycee was found was please, God, let Michaela be with her," Murch said.
Misheloff failed to make it home from school on January 30, 1989, von Savoye said. "For 20 years, we have been attempting to determine what happened." There is no eyewitness that could say with certainty she was abducted, and evidence in the case was limited, he said.
A witness did report seeing Misheloff getting into a vehicle, a sedan similar to one found on the Garrido property, at the time of her disappearance, von Savoye said. Garrido "has demonstrated a propensity to abduct young girls," police said in a statement, and he was released from prison a few months before Misheloff disappeared. Dublin is about 40 miles from Antioch.
Misheloff's family is aware of the search warrant execution, but are out of town on a family emergency, von Savoye said.
In the property search, there are no current plans in place to raze structures, Orrey said, but "we are very interested in what might be behind walls, under flooring, under the ground." Authorities are prepared to disassemble structures if needed, she said.
Evidence collected so far from the property does not show a strong connection to the cases, she said, but because agencies that previously searched the property were not familiar with the Misheloff and Garecht cases, "we're taking another shot at the property" to see what can be found.
Tuesday's search did not turn up "anything earth shattering," Orrey said, but "we have taken some things that need a second look."
A bone fragment police say is possibly human was found last week on the adjacent property, a residence Garrido has had access to, police said. "The fact that a possible human bone was located on that property is part of the reason why we are searching here today," von Savoye said.
Garrido served as the home's caretaker for a while, police said. The current occupant is not a suspect in either investigation. Police have said the fragment would undergo testing at the state DNA lab.

Police have not interviewed Garrido, von Savoye said.
Orrey told reporters the warrant execution took a while to organize, as police had to verify information with other authorities, obtain the warrant and gather a number of personnel to assist. "We did it as soon as we could logistically."
E-mail to a friend