By Mike M. Ahlers
CNN





WASHINGTON (CNN) -- Virginia prosecutors are asking a state court to set a November 9 execution date for John Allen Muhammad, convicted in a series of sniper-style shootings that terrorized the Washington area in 2002.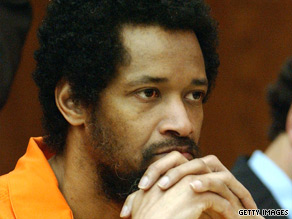 John Allen Muhammad was sentenced to death for the slaying of Dean Harold Meyers.
In a letter dated Wednesday, Senior Assistant Attorney General Katherine B. Burnett said the November date "has been carefully coordinated with the governor's office to insure his availability for any clemency petition Muhammad may wish to pursue." Burnett enclosed a copy of a proposed execution order "for the court's convenience."
Muhammad's attorney said he will file an appeal with the U.S. Supreme Court, and will ask the governor for clemency.
During a three-week period in October 2002, police say, Muhammad and his young protege, Lee Boyd Malvo, shot 13 people, killing 10. The two also are suspected in other shootings and murders in Tacoma, Washington, Montgomery, Alabama, and the Washington, D.C., area.
Muhammad, now 48, was convicted of murder in the death of Dean Harold Meyers at a Manassas, Virginia, filling station. Meyers was killed by a single bullet, which became the signature of the two-person sniper team.
Ultimately, Muhammad was convicted of the Meyers' killing and of one Maryland murder, which prosecutors there said was "insurance" in case the Virginia conviction was overturned.
Malvo was convicted of one Virginia shooting and was sentenced to life imprisonment.
Muhammad's attorney, Jon Sheldon, released the prosecutor's letter Friday.
The letter, addressed to the chief judge of the Prince William County Circuit Court, says the court must hold a hearing within 10 days of receiving the letter, and must set an execution date no later than 60 days after the hearing.
Since Muhammad is not required to be at the hearing, Burnett asks that the court conduct the hearing by means of a conference call.
E-mail to a friend

All About John Allen Muhammad • Lee Boyd Malvo